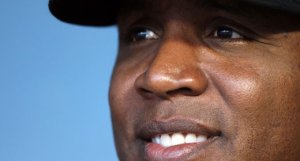 A federal grand jury indicted Barry Bonds on four counts of perjury and one count of obstruction of justice, the culmination of a four-year investigation into baseball's all-time home run leader.
About an hour after the news was announced yesterday, Greg Anderson, a longtime trainer of Bonds who was in jail for refusing to answer questions about the longtime Giants star, was released. Of the statements indicated in the indictment to be perjury, the vast majority of them involve Bonds's interactions with Anderson directly—characterizations Anderson would be in a position to refute.
While the indictment presents an array of unhappy alternatives for Bonds, it's a potential disaster for the league.
Calls from the fans and media to censure Bonds and eradicate his records from baseball's official books will only intensify. But with Bonds merely indicted, but not convicted, Major League Baseball is going to find it difficult to act decisively enough to satisfy the public.
There is little-to-no precedent for baseball's response to the Bonds indictment.
The National Football League suspended Michael Vick for a year for his role in facilitating dog fights, but did so after Vick had already copped to the charges. And baseball's all-time hits leader Pete Rose agreed to a lifetime ban by baseball long before admitting to betting on baseball games, and less than a year later, the Baseball Hall of Fame made any player banned by baseball ineligible for the Hall of Fame.
But these acts did not directly contribute to the player's success on the field. While the indictment doesn't do so either—no one is claiming that Bonds hit more home runs because he obstructed justice—what he lied about, according to the indictment, is taking steroids and human growth hormone.
The closest thing baseball has seen since the investigation into Rose's betting is the current inquiry by former Senator George Mitchell into the use of performance-enhancing drugs in baseball. Mitchell has promised to release his findings prior to the end of the season, and the combination of his information and the indictment would surely be too much for Commissioner Bud Selig to ignore.
But if the charges don't stick, and Selig uses them as part of his cause in banning Bonds from the game, MLB will face a monumental lawsuit.
The easiest part of this for baseball may be whether Bonds plays in 2008. His contract with the Giants ended following the 2007 season, and the team announced late in the campaign that they would not be bringing Bonds back. It is hard to imagine any major league team taking on the public relations nightmare, not to mention the risk of an indicted left fielder or designated hitter, even though Bonds posted an on base-plus-slugging percentage higher than anyone in baseball besides Alex Rodriguez.
The harder question will be whether Bonds can be banned symbolically from the game. He'd be kept out of the Hall of Fame. But what of his home run record?
Even if baseball mandated that Bonds's records carry an asterisk or be erased entirely, how could it be enforced? Would the fact that he hit all those home runs be any more ignorable if he's convicted than if he isn't?
There are no good scenarios here for baseball. The league's executives will just have to hope now that Alex Rodriguez stays healthy long enough to see to it that Bonds' reign as Home Run King is a short one.