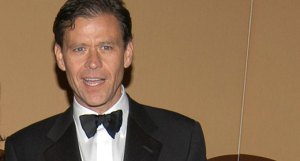 Ric Clark, president and CEO of Brookfield Properties, sat down last week with The Observer to expound on topics such as Merrill Lynch possibly moving out of Brookfield's World Financial Center and the firm's plans to develop a superblock along Ninth Avenue.
We'll have the complete interview in Wednesday's paper, but here's Mr. Clark talking about Brookfield's bid for the West Side rail yards. His firm is up against five others for the biggest slice of undeveloped Manhattan in many years.
About the bids for the West Side yards—How did you approach designing the future of this 26-acre site?
Mr. Clark: Once or twice a century, you get an opportunity to participate in a development that is so important to the future of the city, and the Hudson Yards project, in our view, is a project like that. We figured that this project should become a modern-day benchmark, and effectively all eyes will be on it worldwide. … If you look around New York City, there's a lot of very important projects and architectural statements, but architecture has evolved; and New York City hasn't necessarily had the opportunity to evolve with it, and this, I think, is the first major opportunity to do that.
You seemed to get a lot of high-profile architects. Was there something of a scramble between you and the other firms?
We got everybody on our team that we wanted. We were not rejected by anybody. Our approach to architecture was that this shouldn't be a homogenous development. We should have many of the world's brightest architects participating.
Does it bother you at all that your competitor, Stephen Ross of The Related Companies, is trying to woo your tenant, Dow Jones and the Wall Street Journal, from the World Financial Center to his project, should he win?
Although when it comes to architects, we didn't place a call to someone who was locked up, I did place a call to Dow Jones and found out that they had already been working with Related … We didn't really put a premium on having a tenant at this particular moment. Our first office building in our scheme comes online in 2015—so that's effectively eight or nine years away. We have plenty of time to do that.