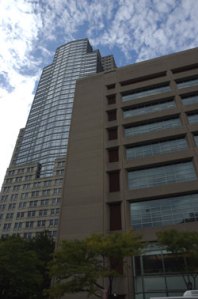 The city's commercial real estate market, starting out the year with a bang amid soaring office rents and record purchase prices, seems poised to close out 2007 with a bit more of a wheeze.
While tenants and landlords often rush to pack in deals before the turn of the New Year, real estate professionals say activity is likely to slow for the final month, as the plates of brokers are relatively empty going into December.
The culprit? The uncertain economy, of course.
With respect to leasing, brokers say that financial services firms, which occupy a significant portion of the city's top office space, seem to be holding off on any major location decisions until at least January, waiting to see how the fourth quarter 2007 numbers shape up. Any layoffs early next year could obviously influence those decisions, in turn altering the landscape of the citywide commercial market, given that significant office space could open up for leasing.
While many companies, facing expiring leases, need to make location choices regardless of what happens on Wall Street, others seem to be biding their time, according to David Goldstein, an executive vice president with tenant-focused brokerage Studley.
"There's a certain segment of the market that has to get transactions completed," Mr. Goldstein said. "And there are [firms in] the discretionary segment of the market—which always comprises a good amount of the deals that get done—many of which are taking a breather."
Manhattan investment sales, which recorded a blisteringly high $34.1 billion in the first half of 2007, have slowed too, with only a handful of major properties left on the selling block.
As of Nov. 15, according to brokerage Cushman & Wakefield, there were $48.1 billion of sales done or in contract for the year involving deals of at least $10 million—an annual record for sure already, but suggestive of a rather mild second half of the year.
This all is hardly to say that the sky is falling, and indeed there are a handful of properties to watch in coming weeks. That list includes the sale of Citigroup's 388-390 Greenwich Street, expected to fetch about $1.6 billion, and the giant St. John's Center, north of Tribeca, which is said to be worth around $600 million.
But overall, most market watchers seem to agree that the pace has slowed, allowing for a more relaxed holiday season—a season likely to be filled, at least for brokers, with large bonuses ripe from the rapid half of the year.