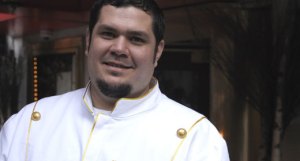 After reopening to disastrous reviews last November, midtown Manhattan's hallowed Russian Tea Room is still in business.
Not that you probably noticed.
"Everywhere I go, people are like, 'Oh, that place is open?'" said head chef Marc Taxiera. "And, I'll be like, 'Yeah, it's been open for a year. Where have you been?'"
Mr. Taxiera, 31, has been there only a few months himself, trying to help the storied four-level, roughly 25,000-square-foot restaurant and banquet hall at 150 West 57th Street rebound from its tumultuous relaunch, tweaking its widely panned menu and attempting to bring order to a previously chaotic kitchen.
Gary Robins, the highly touted and reportedly high-priced chef who was initially tapped for the job, didn't survive long after the critics' pummeling. He was forced out back in February, subsequently dishing to foodie-news site Eater.com about plummeting revenues and "hundreds" of firings over the course of the restaurant's first two months.
The future of the oft-embattled New York landmark, founded in 1927 by members of the Russian Imperial Ballet, now rests heavily on the younger, comparatively lesser-known Italian-American from upstate New York, Mr. Taxiera, who's spent the bulk of his career cooking Tuscan-style fare, with stints at Felidia, Baldoria and Beppe.
Russian food? Not so much.
"I kind of knew what stroganoff was," Mr. Taxiera told The Observer, during a post-brunch interview at the restaurant on Sunday, "and I kind of thought I knew what Kiev was. But that's pretty much it."
Of course, a Slavic pedigree hasn't been a prerequisite for cooking at the Russian Tea Room in quite some time. Some operators of the old eatery, in fact, preferred it that way.
Before buying, gutting and lavishly reconstructing the Russian Tea Room in 1999 to the tune of more than $30 million—"the most expensive restaurant ever built"—legendary restaurateur Warner LeRoy took his wife and children on a culinary expedition to the former Soviet Union.
Blech!
"We cut that trip a little short because the food was so bad," recalled LeRoy's daughter, Jennifer Oz LeRoy, who later managed the iconic eatery before shuttering the building in 2002 after her father's death, and amid the sluggish post-September 11 economy. "He was like, 'What am I going to do with this food? I can't serve this in New York City!' So, that's when he hired a French chef to sort of manipulate the Russian menu."
The tradition of gastronomic glasnost has continued under the current regime, led by real estate mogul Gerald Lieblich, who bought the blinged-out building, giant glass bear-shaped aquarium and all, for $19 million in 2004.
Mr. Lieblich's first choice of kitchen czar, the American-style cook Mr. Robins, proved particularly curious to critics, who quickly took note of how the traditional Russian staples of beef stroganoff and chicken Kiev were relegated to the Siberian hinterlands of the menu's back page. On the plate, Mr. Robins' revisionist take on the traditional dishes fell flat, with one critic comparing his version of the Kiev to "a rubbery impersonation of airline food."
"Obviously, that didn't work so well," said Mr. Taxiera, who's since adopted a more traditionalist approach to the old Russian standbys, pulling from menus dating back to the 1920's. "You really can't mess around with the Kiev. People come in and that's what they want. They don't want a souped-up version of the Kiev. They don't want a souped-up version of the stroganoff. Those are the classics, and you can't really mess around with the classics too much."
MR. TAXIERA, A married father of three who commutes by train from Ossining every day, initially turned down Mr. Lieblich's offer to take the reigns at the Russian Tea Room. "I was very happy at Beppe," he said, referring to the Flatiron District eatery, also owned by Mr. Lieblich, where he honed his skills under the tutelage of chef Cesare Casella and, over the course of seven years, eventually worked his way up to be executive chef himself. "But," he added, "I couldn't really pass up the opportunity."