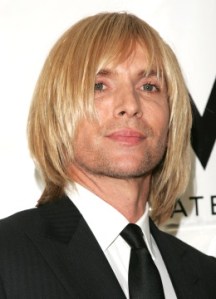 We caught up with New York fashion designer Marc Bouwer last night at the Humane Society's third annual "Cool vs. Cruel" awards ceremony, which attracted an eclectic mix of critter-lovers to Lotus Space on West 26th Street.
If Mr. Bouwer were offered an animal-reincarnation card in the hereafter, he'd like to come back as a cat. "I think cats have got it made, because they can take care of themselves. They're very clean, and they're sort of self-sufficient. They're sleek, and they always seem to have fun and find playfulness in just about anything," Mr. Bouwer purred in a pair of Chuck Taylors, graphite-colored skinny jeans and a puffy black coat.
Animals have apparently long been important to the South African-born designer, who has collected a coterie of adoring Hollywood stars who flaunt his vegan duds. Angelina Jolie, Whitney Houston, Jennifer Lopez, Beyoncé, Heidi Klum, Paris Hilton and Shania Twain have all donned Mr. Bouwer's aqueous, form-fitting gowns, which are mostly fashioned from high-quality jersey, cashmere, silk crepe and velvet.
"In the world that we've created, we have sort of infested [the animals'] world and slaughtered them needlessly," he told the Daily Transom in a concerned tone. "We have taken over their spaces needlessly so they have nowhere left to go. Animal species are becoming extinct."
Mr. Bouwer also said he shudders to think of the breeding methods still being employed to cultivate fur, which many of his fellow designers continue to support. "It's so unnecessary," he said, "because technology has advanced incredibly, so we can get the look and feel of leather and real fur without the hideous cruelty that's involved."
The blonde rag-trade innovator is especially appalled, he said, by the lack of environmental progress that's been made over the years. He remembers seeing films even as a child that exposed the cruelty of the fur trade and the dangers of environmental degradation. "I thought we could not possibly continue on that path of cruelty in an industry like fashion, or furniture, or whatever. There should be no death or cruelty in any kind of industry," he said.
Other paw-pals at the party included writer Jessica Joffe; organic socialite Arden Wohl; designers Erin Fetherston, Charlotte Ronson and Frank Tell; artist Sarah Sophie Flicker and photographer Mick Rock.