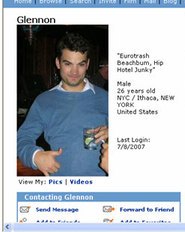 So much for the Chelsea Hotel's resident "eurotrash beachbum."
Glennon Travis, the new director of operations for the embattled bohemian enclave, whom The Observer profiled last week, has scrapped his revealing MySpace page following the article's publication.
Nevermind that part about "[d]espite the teasing, Mr. Travis has yet to remove or even alter his MySpace presence."
Yet the new guy continues to provide more juicy gossip for writer Ed Hamilton's blog about hotel life, Living With Legends.
Mr. Hamilton further reports that Mr. Travis is engaged to be married: "Congratulations Glennon!"