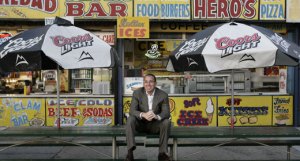 Joe Sitt figured the way to get what he wanted at Coney Island would be to buy it. And so, over the past couple of years, he has been craftily prying vacant lot after vacant lot, empty storefront after empty storefront, out of the hands of families that had held them in trust for all of these years, long after the parasols had been packed up and the profits had disappeared.
Now, $150 million later, Mr. Sitt has gained about 80 percent of the amusement area and a reputation as a land speculator. On Nov. 8, Mayor Bloomberg revealed a plan to redevelop Coney Island into the largest urban amusement area in the country, mapping out a strategy to divest Mr. Sitt of the land he has painstakingly assembled.
It wasn't enough just to continue the restrictive zoning to keep Mr. Sitt from building the condos or time shares that he wanted. Mr. Bloomberg wants to buy up the land and sanctify it with state legislation as a park—albeit a park with rides in it.
All in all, the mayor's plan, which fans called "bold" and the rare detractor called "risky," recalls the way that he appears to lord over real estate business in the city: Established companies get to shape their own destinies (Forest City Ratner, the New York Yankees), but if he thinks you are dicking around, he will figure out a way to undermine you (Madison Square Garden, Larry Silverstein).
City officials will not criticize Mr. Sitt directly, but they do so obliquely. The day of the announcement, Deputy Mayor Dan Doctoroff referred to Mr. Sitt as a shopping center developer unexperienced in the ways of the amusement industry. The following day, in an interview with The Observer, Mr. Doctoroff brought up another parcel, dear to the city's economic revitalization plans for downtown Brooklyn, that Mr. Sitt recently flipped for a handsome $95 million profit after struggling—or maybe pretending to struggle—to develop it himself.
"We think he is a perfectly good real estate developer," Mr. Doctoroff told The Observer. "He has sold his interest in the Albee Square Mall to enable us to move forward with the development there."
In other words, he's the type of guy most useful when he steps aside.
Robert Lieber, the president of the city's Economic Development Corporation, says of Mr. Sitt, "I think he's a smart guy, a capable guy. I think he's done a great job for his investors."
In other words, he's the type of guy who is after a profit.
In essece, the mayor is trading the risk of trusting Mr. Sitt for the risk of having the city develop the amusement park itself.
Mr. Sitt, who would not agree to be interviewed for this story, probably would not deny he liked money, but he has tried to portray himself as personally invested, and genuinely enthusiastic, about bringing Coney Island back. Born in Brooklyn, he spent his childhood eating hot dogs along the boardwalk. He founded the Ashley Stewart clothing store chain at age 26, and has since bought and renovated a number of inner-city shopping centers around the country (along with some other notable properties like the Palmer House Hilton in Chicago). Right around the time that the Bloomberg administration began making noises about Coney Island's potential, Mr. Sitt started making deals with the old families on the peninsula, from the Tilyous, whose ancestors opened Steeplechase Park in 1897, to the descendants of the man who founded Nathan's Hot Dogs, to Horace Bullard, a fast-food entrepreneur who started buying up Coney Island himself in the 1980's with a similar, since-aborted dream to redevelop it.
Mr. Sitt, the chairman of Thor Equities, commissioned a number of plans, one that looked like something out of Las Vegas, another that looked like something out of The Jetsons. Along the way, Mr. Sitt gave the impression that he had an awful lot of ideas, and that he kept changing them.
One central idea that did not change was that a year-round amusement park—which was what, after all, the city wanted too—could not make money, and needed to be subsidized by retail and residential development. That, in turn, made Coney Islanders nervous that the amusements were just a Trojan Horse.
"Joe's heart was not in bringing back Coney Island; Joe's heart was mainly in making money," said Mr. Bullard, the landowner who last year sold some of his property to Mr. Sitt (who then resold it for a $77 million profit). "I think the city was not confident in Joe's history."
But, according to his spokesman, Stefan Friedman, Mr. Sitt never intended to run the amusement park himself but was planning to hire an experienced operator, in the same way that Mayor Bloomberg is proposing to do. Whether the city's plan will break even without some type of subsidy is another matter. Mr. Doctoroff said that the city's plan would require "tens of millions" of dollars in public spending. (He promised Mr. Sitt a "substantial" profit for his land if he did not want to swap for an upzoned, shorefront parcel the city owns on the other side of the neighborhood's baseball stadium.)
Lars Liebst, the chief executive of Tivoli Gardens, one of the European attractions that the city's Coney Island Development Corporation looked to as a model, expressed skepticism that the amusement park could be open throughout the winter.