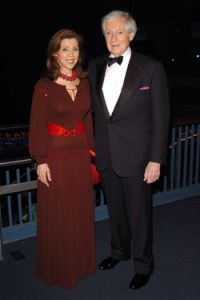 It's been three years and almost two months since Wall Street guru Martin Zweig began asking $70 million for his triplex penthouse co-op at The Pierre, the lithe, green-topped hotel tower at 795 Fifth Avenue. The apartment has gotten at least two full-price offers, which listing brokers said last year "doesn't mean anything" because the co-op board is so tough.
Now Mr. Zweig's 16-room apartment has something else to worry about. A neighbor, the venture capitalist Lionel Pincus, companion to Princess Firyal of Jordan (once King Hussein's sister-in-law), has listed his 12-room Pierre apartment for $50 million.
According to the listing with the Corcoran Group's Joan Kaplan, showings began on Monday for the co-op, the second most expensive apartment in the city (behind its upstairs neighbor).
What does $50 million buy? The entire 30th floor, and half the 31st; seven bathrooms, just like in Mr. Zweig's triplex; and then six bedrooms, one more than the penthouse's paltry five.
On the other hand, that triplex is more than twice the size of this 6,668-square-foot space. So while Mr. Zweig has been asking $5,124 for every square foot, Mr. Pincus now wants $7,498. "It's an aggressive price, for sure," said Prudential Douglas Elliman vice chairman Dolly Lenz, who sold Princess Firyal's smaller apartment in the building a few years ago.
"You never know who is out on the marketplace to buy," she said, "but I just think it's too high a price." On the other hand, if she had the chance, Ms. Lenz would choose the duplex over the triplex penthouse. "Even before it was finished it was a very open, very well-proportioned space … whereas the top floor felt more hotely."
Ms. Kaplan would not comment: "I am bound by a confidential agreement not to say anything." An assistant for Mr. Pincus, a co-founder and chairman of Warburg Pincus, hung up on this reporter.
When a phone call to Mr. Pincus at the duplex didn't go through, a phone operator at the building said, "Well, they own it, but sometimes they never come here." City records from the mid-1990's put Mr. Pincus' address at 733 Park Avenue. "We don't even see them!" the Pierre operator said. "At least the man on the phone is nice, that's all I can say."