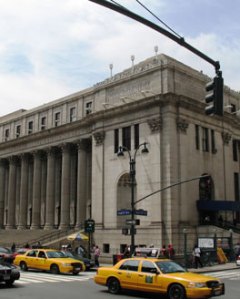 One of the ongoing points of contention between civic organizations and the developers of the planned Moynihan Station complex is whether Madison Square Garden should be allowed to advertise on the Beaux-Arts façade of the Farley Post Office, which would serve as the Eighth Avenue entrance to the new arena. Today, a coalition of 17 organizations and elected officials, under the auspices of Friends of Moynihan Station, softened the hard-line preservationist approach.
The statement of principles (PDF) reads: "A limited amount of advertising as long as it is tastefully designed and managed, as it is in Grand Central."
The Friends' Web site actually shows a variety of advertising, including the banners in front of the Metropolitan Museum of Art. Asked whether the banners should be allowed, Robert Yaro, president of the Regional Plan Association, said, "The principle is that we are standing in front of a landmark here and the landmark has to be respected. Can there be some temporary signage for special events? Perhaps that's going to be acceptable."
Peg Breen, the president of the New York Landmarks Conservancy, which has taken a harder line on preserving the exterior but has nonetheless signed onto the design principles announced today, said, "The Garden is going to have opportunities, as I understand it, with kiosks at the corners, mid-block and Ninth Avenue corners. Everyone is going to know where Madison Square Garden is. We want people to know there is a Post Office and great train station inside."
Is everyone clear on this?