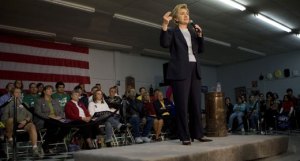 KNOXVILLE, IOWA—When Hillary Clinton's campaign quietly assured reporters that she was going to make news with an economic policy address here this week, it had nothing to do with economic policy at all.
As it quickly became apparent, she had come to talk about Barack Obama.
"There is one job we can't afford on-the-job training for," said Mrs. Clinton, standing in a gym in front of a sign that said "Rebuilding the Road to the Middle Class." "That is the job of our next president. That could be the costliest job training in history."
She added, "Every day spent learning the ropes is another day of rising costs, mounting deficits and growing anxiety for our families. And they cannot afford to keep waiting."
Mrs. Clinton's latest sweep through Nevada and Iowa marked a sharp turn onto the offensive for her and her campaign, and she's clearly warmed to the role. Starting with her preemptively truculent debate performance last week and continuing in a series of appearances, the campaign has chosen to alter a dynamic that had her as a passive front-runner weathering daily attacks from her rivals.
Meanwhile, her opponents have taken to talking about her in terms normally reserved for the likes of Karl Rove.
"She of all people, having complained so often about 'the politics of personal destruction,' should move quickly to either stand by or renounce these tactics," Mr. Obama said on Nov. 17 in response to a Bob Novak column saying "agents" of the Clinton campaign had clandestinely claimed to have dirt on Mr. Obama. "The cause of change in this country will not be deterred or sidetracked by the old 'Swift Boat' politics."
(The Clinton campaign swiftly denied the Novak column and said that the younger Mr. Obama had fallen into a trap.)
And the next day, on Nov. 18, John Edwards' communications director Chris Kofini accused the Clinton campaign of purposefully misconstruing Mr. Edwards' statements on health care. "Manipulating words and lying about them is a tool right out of the Republican playbook," he said in a statement. "As Democrats, we shouldn't stoop to that level."
Mrs. Clinton's supporters, needless to say, see the high-pitched counterattacks as a sign of desperation.
"Tactically, Hillary is the most sure-footed," said Fred Hochberg a prominent Clinton donor who spent part of last week building support for Clinton in Iowa. "She's running a disciplined campaign and people will use any tactic to try and take down the front-runner."
Another major fund-raiser for Mrs. Clinton, Robert Zimmerman, sees the Republican references as her rivals' way of trying to scare up Democratic support with just over 40 days before the Iowa caucus.
"That's the first warning sign of how desperate they are getting," said Mr. Zimmerman, a public relations marketing executive. "No one has faced more attacks from Republicans than Hillary Clinton. Democrats are not going to accept any comparisons between her and Republicans."
Interestingly, a Washington Post-ABC News poll released on Nov. 19 showed her narrow lead in Iowa having vanished, with Mr. Obama at 30 percent, Mrs. Clinton at 26 percent and Mr. Edwards at 22 percent.
While those results are within the margin of error, nearly twice as many people found Mr. Obama more honest and trustworthy than Mrs. Clinton, and Mr. Obama's emphasis on change resonated with more Democrats as a top priority than Mrs. Clinton's stressing of experience.
During her policy address in Knoxville, Mrs. Clinton seemed to be promising the best of both worlds, pledging to reverse the economic policies of the current administration, but doing so in a way that distinctly echoed the previous one.
"They [Republican candidates] see $9 trillion in debt and say, 'Why not trillions more?'" she said. "They see tax cuts for wealthy Americans and big corporations and say, 'Why not more?' They see one attempt to privatize Social Security and say, 'Why not one more?' In short, they see eight years of Bush economics and say, 'Why not eight more?'
"Well, here's my response to that: You've got until January 20, 2009. And not one day more will we put up with these failed policies."
In campaign stops throughout Iowa on Nov. 19 and 20, Mrs. Clinton delivered more of the same.
At an elementary school in Vinton, Mrs. Clinton told a crowd of enthusiastic Clinton supporters, "It took one Clinton to clean up after Bush, and it will probably take another."