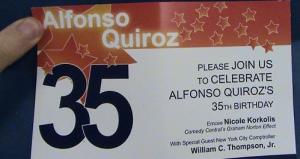 Here's an invitation for a birthday party-fund-raiser for Jackson Heights, Queens, City Council candidate Alfonso Quiroz.
Quiroz is likely to face district leader Danny Dromm in the Democratic primary.
Which makes the special guest status at the event of City Comptroller and likely mayoral candidate Bill Thompson somewhat notable: it's one of the first times I've seen a prospective citywide Democratic candidate back a candidate who is expected to have a contested Democratic primary.
UPDATE: A reader reminded me of what is probably a motivating factor in Thompson's role here. His director of communications is Quiroz's treasurer (and boyfriend).
Also, one of Thompson's likely opponents in 2009, Christine Quinn, has known Quiroz's opponent for a number of years, since they were both community activists, according to a knowledgeable source. That may lead Quinn to actively support Danny Dromm.