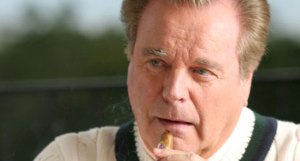 MAN IN THE CHAIR
Running Time 109 minutes
Written and directed by Michael Schroeder
Starring Christopher Plummer, Michael Angarano and Robert Wagner
Before you get crushed in the avalanche of big, bloated, expensive and overhyped year-end movies, seek out Man in the Chair, one of the smaller accomplishments that deserves special attention. A modest but intelligent feel-good movie with a spectacular performance by Christopher Plummer and some wise and deeply affecting writing and direction by Michael Schroeder, it's about Cameron (Michael Angarano), a rebellious 17-year-old high-school geek and borderline juvenile delinquent obsessed with classic movies, who escapes from boredom, neighborhood bullies and an unhappy home life with a mean-spirited stepfather by cutting classes to haunt revival houses. One day, while studying the camera arcs in Orson Welles' Touch of Evil, he overhears an amusing critique of Charlton Heston as a Mexican cop ("You never could act in pants, Chuckles," heckles a scruffy old bum) that annoys the audience and empties the room. Intrigued enough to follow the old man to observe what might be an interesting character study for an upcoming student film competition, Cameron is shocked out of his Reeboks when the hostile, foul-mouthed old reprobate turns out to be Flash Madden, a former Hollywood studio gaffer and the last surviving crew member of Citizen Kane, living out his last days in a motion picture retirement hospital. Enduring insults and rejection, the kid won't give up. I mean, this old fart worked for Capra, Welles and Howard Hughes! What a movie he would make. For a bunch of cigars and a bottle of Wild Turkey, Flash reluctantly agrees to help the kid with his film by teaching him everything he knows about the movies: how to make them, watch them and be "the man in the chair," an old-timer's phrase for "director." He also introduces Cameron to his elderly pals—a group of lost, forgotten Hollywood veterans, including a legendary Oscar-winning writer (M. Emmet Walsh), who all live in varying degrees of penury in a nursing home. The more he looks into the lonely, marginalized has-beens of a throwaway industry that has no memory, the more expansive Cameron's theme grows, into an important exposé of nursing home violations as well as a shocking study of the physical abuse and bureaucratic neglect suffered by the old in an American society that has no respect for growing old with dignity. Combining the stamina of youth with the wisdom of the elderly, Cameron forms his crew, while Flash swallows his ego and shames a $5,000 budget out of the successful producer (Robert Wagner, in his best role in years) who stole his wife and destroyed his marriage in younger days. In the course of shooting, a troubled kid with ambition finds a future, the drunken old coot who gave up on life regains his sense of value by doing what he still does best and all of the discarded and disenfranchised members of the crew learn how to face the time they've got left with hope and pride. The actors are all splendid, but it is impossible to describe the full impact of Christopher Plummer's power, summoning decades of experience and craft to turn the role of a barnacled bum into a three-dimensional study of age fueled by despair, rage and endearment.
Working for only a pittance of his usual salary in a film with a $3 million budget raised by the director's sister, a mortgage broker in Idaho, Mr. Plummer gives one of the most colorful and mesmerizing performances of 2007. He is living proof that true artistry has no price tag when you honestly believe in something. Everyone involved should be saluted. At a time when most films wallow in mankind's basest instincts, Man in the Chair is a rare, once-in-a-blue-moon kind of movie that celebrates the best qualities in people and makes you applaud the human race.