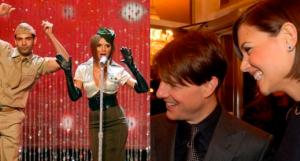 Now that the Spice Girls are once again sharing the same rack, they have really started to turn up the heat. A little over a week after the British pop group dove headlong into their reunion tour at this month's Victoria's Secret fashion show, they've been courted by the Cruise family, who stopped by to hear the ladies croon, clap and clop during a recent closed rehearsal. But that's not all, Tom, Katie and Suri apparently went so far as to wish the hot-again herbs good luck on their upcoming tour, which gets underway in Vancouver on December 2.
From the official Spice Girls Web site:
Tom and Katie enjoyed an impromptu audience with the girls and were treated to an exclusive performance, while Suri danced along to the music.
"David and I are great friends with Tom and Katie," Victoria told us afterwards "It was lovely of them to come down to rehearsals, a really nice surprise. Katie has told me before that she used to be a big Spice fan so it was great for her to meet the other girls."
Surprise Guests at Rehearsals [TheSpiceGirls.com via HuffPo]