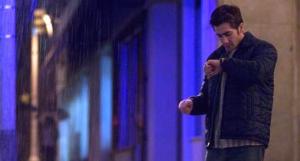 The Film Society of Lincoln Center will screen the director's cut of David Fincher's Zodiac (settle in for the long haul) tonight at the Walter Reade Theater. The director himself will then make a rare public appearance, joining Kent Jones, associate director of programming at the Film Society and editor-at-large of Film Comment magazine, for a discussion about Zodiac and his career.
Here's the Observer's Andrew Sarris' review of Mr. Fincher's "curiously perverse" career, "spent in the indulgence and exploitation of baroque forms of depravity and evil."
He began uneventfully enough with the inauspicious derivativeness of a sequel to a sequel in Alien 3 in 1992. But three years later in 1995, Mr. Fincher burst into prominence with the box-office bonanza Se7en, a grim tale of two detectives hunting for a serial killer, whose victims had each committed one of the seven deadly sins. Brad Pitt and Morgan Freeman played the detectives. And this bull's-eye in casting has characterized Mr. Fincher's successful career ever since. The Game (1997) profitably recruited Michael Douglas and Sean Penn in a real-life cat-and-mouse game involving two brothers—one of whom torments the other.
In 1999, Mr. Fincher was reteamed with Mr. Pitt—along with Edward Norton and Helena Bonham Carter—in Fight Club, a baroque, bare-fisted extravaganza that anticipated today's media-driven craze for total combat in the ring. Then, in 2002, he directed Panic Room, in which Jodie Foster and her children outwit and outlast a trio of predators (played by Forest Whitaker, Dwight Yoakam and Jared Leto) with the technological devices of a maximum-security mansion.
Now, in Zodiac, Mr. Fincher's flair for casting is the major asset of his curiously attenuated return to the serial-killer genre.
Tickets are no longer available online but there will be a standby line at the Walter Reade Theater before the event, which starts at 6:30 p.m.