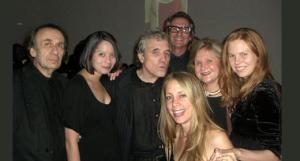 Joanne Leonhardt Cassullo, Sally Mann, Gillian Laub and Laurence Miller were all honored last night at the Aperture Foundation's 2007 benefit and auction at the Skylight Studios in Soho. Uptown social chronicler David Patrick Columbia gets a little bit Dian Fossey about the whole thing:
Whereas the uptown charity benefit can bring in a lot of people who are attending out of obligation to a friend (who might be a co-chair or committee member), downtown benefits are part of the statement of its denizens: we are of the art world.
That is not to say you don't see the same people at both uptown and downtown many times. It merely means the ones you also see downtown also are somehow, most likely, a little bit hipper. And serious. Art serious. At least they are inclined to think so (and take their interest very seriously).
Click through here for lots of pictures and more: New York Social Diary