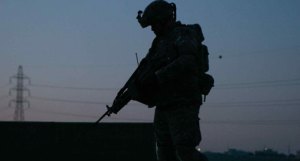 REDACTED
Running Time 90 minutes
Written and directed by Brian De Palma
Starring Kel O'Neill, Ty Jones, Mike Figueroa
Brian De Palma's Redacted, from his own screenplay, deals with an American military rape atrocity much like his 1989 Casualties of War, a reenactment of a true story, from a screenplay by David Rabe, based on Daniel Lang's New Yorker article, later published as a book. In that cast were Michael J. Fox, Sean Penn, Don Harvey, John C. Reilly, John Leguizamo, Thuy Thu Le, Erik King, Sam Robards and Ving Rhames. Mr. De Palma invokes the earlier film in his director's statement on Redacted: "Once again a senseless war has produced a senseless tragedy. I told this story years ago in my film Casualties of War. But the lessons of the Vietnam War have gone unheeded. But how to tell the story today? And how did it all begin? Then I read about an incident in the Iraq War where members of a U.S. Army squad had reportedly raped a 14-year-old girl, shot the girl in the face, and set her body on fire. How could these boys have gone so wrong? In searching for the answers, I read soldiers' blogs, books, watched soldiers' home-made war videos, surfed their web sites, and their 'YouTube' postings. It was all there, and all in video."
In comparing Mr. De Palma's two antiwar statements on film, and without questioning his sincerity and conviction, two points must be made at the outset. First, Casualties of War was released 14 years after the end of U.S. involvement in Vietnam, whereas Redacted is coming out in the midst of actual hostilities in Iraq and Afghanistan, as are so many other fiction and nonfiction films of the season, and to single out two American rapists and murderers for opprobrium works to distract us from the bigger picture. Still, it would be a mistake to suggest that the second film is a copy or sequel of the first. Casualties of War was a real honest-to-goodness movie with name actors in the principal roles, while Redacted is more of a multifaceted meditation on all the new visual technologies that produce the varied images through which we perceive the war on our television screens. The performers in this film are all comparatively obscure nonentities with little capacity to confuse us with big-star-name identification. Redacted is unlike Casualties also in its complete lack of uninterrupted linear narrative. Indeed, some of the interruptions in Redacted are more compelling and pertinent than the main narrative. I was particularly impressed by an apparently French documentary that captured the sheer tedium that afflicted a squad of American soldiers entrusted with the security of one of the many checkpoints in Baghdad and other Iraqi cities. The very small percentage of insurgents intercepted at great inconvenience to the great majority of Iraqis simply going about their business introduces a numbers game to the endless problems of the American occupation.
Nonetheless, drawing historical parallels between Vietnam and Iraq in terms of a single pathological manifestation can be both misleading and unhelpful. If people seem more apathetic about one war as opposed to the other, it may be because there was no 9/11 in the Vietnam War to galvanize public opinion against a hated enemy at least momentarily. Curiously, Mr. De Palma makes very little effort to comprehend the wrongdoers in his version of Iraq. Their vile language and clear class inferiority distance them from any pity or understanding from the average audience member.
Mr. De Palma, now 67, has camped on the darker side of existence for most of his 40-year, 38-film career. The horrors of Carrie (1976), Dressed to Kill (1980), Blow Out (1981), Body Double (1984), The Untouchables (1987) and Raising Cain (1992), among his more successful works, seem to have anticipated the current craze for morbidity in our entertainments. Still, my favorite De Palma effort is his much underrated Mission to Mars (2000). The point is that he didn't need Vietnam or Iraq to explore the evil depths to which human beings can descend when the opportunity arises. In this respect, the horrors of war simply multiply the horrors of so-called peacetime.