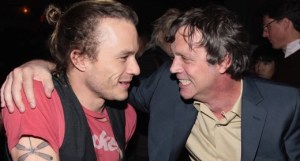 Director Todd Haynes' latest project, I'm Not There, an Indie about the life of Bob Dylan, has exceeded expectations at the box office. During its limited, five-day release, the film grossed over a million bucks, and the Oscar buzz has already begun. (Namely, industry insiders and critics have been alight over a winning performance from Cate Blanchett, who plays Mr. Dylan as "Jude.") Mr. Haynes, 46, recently sat down with the Huffington Post and waxed on his $20 million flick.
In the interview, the auteur, who was previously nominated for an Academy Award for 2002's Far From Heaven, admitted that he has no idea if his 66-year-old subject has even seen the film, which features six different actors (originally, there were seven) playing the music man at different stages in his life. "We sent him a screener a few weeks ago but haven't heard anything yet. I mean, it would be disappointing if he never watched it, but I think he will eventually. I feel fairly untaxed about it; I just hope he laughs," Mr. Haynes said.
The director, who has never actually met Mr. Dylan, went on to say that he didn't face too many obstacles when writing I'm Not There. Instead, he said, reading the musician's 2004 autobiography, Chronicles, provided most of the information he needed.
"I had no interest in putting Dylan in the position of giving me encapsulated truths about his life, because what he would have decided to share, and the weirdness associated with it, would have been not worth what I got out of it. That's not what the film is really about; the whole spirit of the idea was several steps removed from his own personal encounters," Mr. Haynes told the blog.