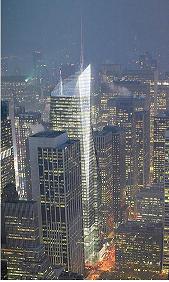 How much money can it take to build the Bank of America tower at One Bryant Park?
A whole bunch, apparently.
The developer of the building, the Durst Organization, has taken out another $300 million mortgage, public records show, an amount that will be used "to finish the job," said Durst spokesman Jordan Barowitz. The loan was always planned, Mr. Barowitz said, and should provide enough to bring the building to completion next year.
The tower, which is gradually receiving a glass shell around its steel skeleton, received approval for $650 million in triple tax-exempt Liberty Bonds in 2003, an amount that came on top of other city and state subsidies.
The use of those bonds, intended to help the city recover after September 11, caused a bit of a stir back in the days when downtown's future was sitting on less sturdier ground.
Given the subsidy afforded to the tower and the sky-high rents owner Douglas Durst has been able to charge, thanks to the booming office market, one would imagine the mortgage will be paid back without much difficulty.