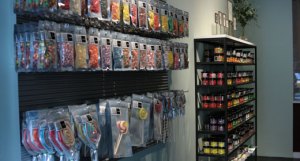 In a small storefront on Broome Street, where Little Italy gives way to Chinatown, an old-fashioned candy maker called Papabubble has set up shop. On a recent sunny afternoon, two raffish young men, each wearing work gloves, their hair secured in matching black do-rags, stood behind a marble counter, kneading and pulling several gelatinous blobs. One was white and doughy-looking; another was yellow-brown and looked like a huge molasses spill. It was almost iridescent. They said they were making apple-flavored hard candies.
One of the men was 27-year-old Chris Grassi, who co-owns the shop with Fiona Ryan, 26; both worked in Papabubble's Barcelona store for several years. Papabubble's other two shops are in Tokyo and Amsterdam, where the second candy maker, who said his name was "Pickle," normally works. (He's on loan to get the U.S. store up and running.) The mini-chain, which is known for its crowd-pleasing demonstrations, was started by two Australians who learned candy making, Mr. Grassi told The Observer, from a Danish man living in Australia, and the craft has been passed down to the shop's workers worldwide.
The store itself is spare. Shelves filled with jars of brightly colored candy line one wall; next to them are layers of swirly lollipops (small, $4; medium, $7; big, $15). In a case next to the cash register are huge candy rings ($25, and "gold" rings for $55) and small test tubes filled with miniature hard candies ($20). Along the back wall, a dozen or so large beakers, each filled with a different color liquid, are arranged on open shelves, and marked "Lime," "Strawberry," "Passion fruit." Also visible were several spatulas, wooden sticks, a funnel. As Mr. Grassi and Pickle stretched their batch of apple candy, it went from a six-inch-diameter blob to a half-inch-wide tube, which Mr. Grassi chopped off at two-foot-long intervals and passed to Pickle, who rolled the finished tubes to harden them. Then they chopped the tubes into pieces on a slab. Eight kilograms of mix, said Pickle, make about 8,000 pieces of candy, which then get put into bags ($7.50), small jars ($14.50), or big jars ($25). Refills are available at a discount.
The effect is moderne Willy Wonka wanders into a chemistry lab, but Papabubble also taps into an anti-corporatist mentality, with its traditions of apprenticeship (Mr. Grassi said he will soon start training his cashier in the candy arts) and small-scale production; everything made in the New York store is sold only in that store. It's a far cry from the theme-park atmosphere (and literal theme park) of Hershey's headquarters in Hershey, Pennsylvania, or the long tentacles of the multinational conglomerate Nestlé. People who buy their purple wax beans at the Greenmarket will likely feel right at home.
Of course, none of this would matter if the candy wasn't any good, but it's delicious. The fruit varieties—which range from strawberry and raspberry to passion fruit, lime and kiwi—are particularly flavorful; there are also sugar-coated "pebbles" in different fruit flavors, chocolate hard candies and mints. "Spanish people aren't that into mint," said Mr. Grassi. "They don't feel like there needs to be both spearmint and peppermint. New Yorkers are a little more diverse in their tastes."
Papabubble, 380 Broome St., (212) 966-2599, www.papabubble.com