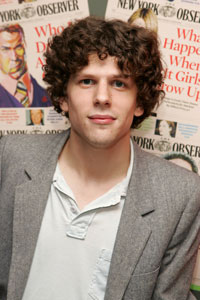 Jesse Eisenberg, who recently spoke to the Observer about his Off-Broadway play Scarcity, will star as drug-dealing Hasidic Jew in the comic drama Holy Rollers.
The Hollywood Reporter tells us:
The film, one of the first to emerge from the burgeoning "Jewsploitation" genre, is ripped from true-crime headlines and follows an impressionable youth (Eisenberg) from an Orthodox Brooklyn community. He's lured into becoming an Ecstasy dealer by a friend ([Justin] Bartha) with ties to an Israeli drug cartel. Newcomer Danny Abeckaser is set to play the owner of a club where they do their decidedly unkosher business.
Set in 1999, Antonio Macia's screenplay was loosely inspired by real-life 1990s-era crimes where Hasidim were recruited as mules to smuggle drugs into the U.S. Production is slated to begin in the spring in New York.