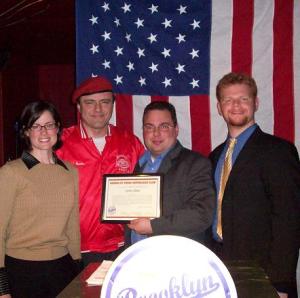 Sid Blumenthal, who left The New Yorker for The White House in 1997, is leaving Salon.com for Hillary Clinton's campaign.
Two new Iowa polls show Obama and Edwards close to each other, and close behind Hillary.
And Bill Richardson might not play as nice as it seems, especially with Mrs. Clinton.
Kenneth Baer thinks Obama needs a history lesson.
George Pataki, who will attend this weekend's Harvard vs. Yale game, tells Annie Karni "None of us are particularly good losers."
Michael Idov points out that Giuliani's first TV ad, which never mentoned 9/11, got everyone talking about Giuliani and 9/11.
Meanwhile, his Kerik problem gets some serious treatment in the Economist.
Meanwhile, in a new poll, the former mayor's numbers are up.
Peter Brown says immigration is the new affirmative action.
Speaking of which, Lou Dobbs may be running for president.
Marc Ambinder asks: Who isn't planting questions these days?
And pictured above is Curtis Sliwa, flanked by Brooklyn Republicans after a speech in which he floated the idea of running for office.