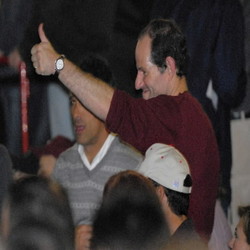 Giuliani trumpets a conservative legal agenda in a speech to the Federalist Society.
A New Yorker article on Obama is titled "The Relaunch."
Even though Yepsen thinks the Hillary Clinton is a champ.
While Richard Wolff says John Edwards is running out of time.
Liz reports that Bloomberg says he's not in A-Rod's financial league.
The fare hike controversy has migrated upstate, via a proposed toll hike on the Thruway.
The Feds seize gold, silver and copper coins printed with the image of Ron Paul.
In response to our question, "If Spitzer is Julius Ceasar, who's his Brutus?" commenter What's So suggests he may be his own, but if not "the answer is Hillary Clinton."
And courtesy of the Albany Times-Union, pictured above is Eliot Spitzer at last night's Bruce Springsteen concert.