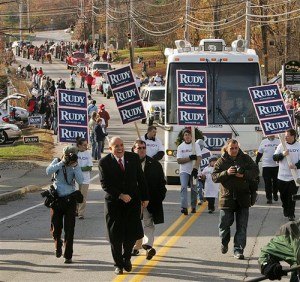 Ray Kelly is about to become the longest-serving police commissioner since 1945.
Councilman Simcha Felder laid praise, and mayoral allusions, on Kelly today at a breakfast in Brooklyn.
Then Kelly jokingly thanked Felder for protecting the city from overfed pigeons.
In a effort to increase transparency, state Comptroller Thomas DiNapoli has vowed to post approved state contracts on the internet.
N.J. state Senator Diane Allen will not run for congress.
But a former wrestler known as A.J. Sparxx may run for Mike Ferguson's congressional seat.
A judge has some very harsh words for the McGreeveys.
The Economist declares "At last, a real fight for the Democratic nomination."
Ed Koch has something to say about Giuliani's suspicious billing of travel expenses.
Councilman Dennis Gallagher might not get the housing units he wanted.
Andres Duque shares Azi's obsession with that upcoming City Council race in Jackson Heights.
Dee Richards briefly wonders if Nora Marino will run again for Republican state Senator Frank Padavan's seat.
There's some tension over at Community Board 13 in Queens.
Phil Anderson is appalled that someone would use Geocities for his campaign web site.
Eric Massa doesn't think much of junkets, especially ones to Brazil. [via Rochester Turning]
Michael Bloomberg does not speak highly of a proposal to reduce homework by Peter Vallone, for whom he just had a fundraiser: "I suspect if you're running for eighth grade class president, less homework is a good campaign platform to work with," the mayor said.
And pictured above is Rudy Giuliani campaigning this week in New Hampshire.