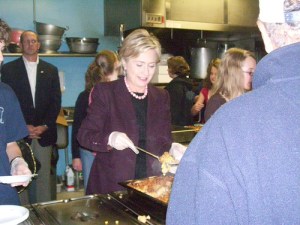 Obama and Edwards follow Clinton's lead and say they will refuse to cross a picket line for the December 10 debate if CBS News workers strike.
Spitzer makes another "good news" announcement.
Amy Sullivan asks if Obama's rise in the Iowa polls is for real.
Hillary Clinton says the verdict in a Saudi Arabian rape case is "an outrage."
Experts answer the question posed earlier about Giuliani's newest ad: is New York really America's most liberal city?
Some organizations have concerns about the phrasing of questions in this week's poll showing a majority opposed to congestion pricing.
The FDNY would like to remind you that deep-frying a turkey can go horribly awry.
The New Hampshire primary is set for January 8. [added]
And pictured above is Hillary Clinton serving Thanksgiving dinner at a shelter in Des Moines, Iowa.