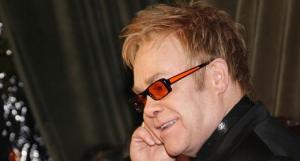 Elton John and his partner David Furnish were across the world from each other last night, with Mr. Furnish in Australia rehearsing for his role in the musical Billy Elliot while Mr. John found himself at a party held at the new Chopard flagship store at 63rd and Madison to celebrate its opening.
The 60-year-old Mr. John was only one of a list of celebrities to bathe in the fuchsia glow of colored floodlamps pointed at the store for the event but he looked the most at home in the strangeness of it.
How is life with David since they became domestic partners in 2005, a reporter asked?
"I don't think it makes any difference, because we've been together for 13 years, and now we've been together for 14 years," he said. But! "And it feels so much better, to be honest."
He said he talks to the 42-year-old Mr. Furnish on the phone 10 or 12 times a day; they're planning to spend the holiday season in Venice before going on safari in Africa, "which we always do."
When The Daily Transom caught up to him we wanted to ask him about the murder of his good friend Linda Stein, the famous real-estate broker who was found bludgeoned to death in her Fifth Avenue apartment and who used to buy Mr. John's art for him at auction to keep him from spending too big on shoes and coats.
"I'm not here to talk about that," he said. "I mean, I find it…It would be inappropriate for me to say something. I'll say something when the time is right."