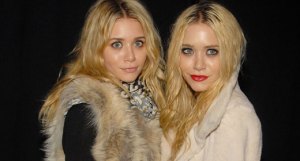 If twin biochemists or twin Nietzsche scholars or twin horticulturalists listed their shared West Village penthouse, no one would really care. But when undernourished twin starlets put their 12-room West Village condo on the market, asking $4,695,000 more than they paid three years ago, it's hard not to froth.
Ashley and Mary-Kate Olsen, whose preteen entertainment firm Dualstar does $1 billion a year in merchandising, just listed their five-bedroom, 53-window, 5,725-square-foot penthouse at One Morton Square for $11.995 million.
But they haven't spent much time there. City records show they paid $7.3 million in December 2004, three months before they listed the apartment for nearly $2 million more. By that summer, the place was asking $35,000 a month in rent. "The apartment has been rented, and has been continually rented since then," said Stribling & Associates vice president Charlotte Van Doren.
The Olsen ladies helped create the penthouse, even though they mostly rented it out. "The sellers bought four properties from the developer preconstruction"—old reports list this as a five-unit place—"and designed their own floor plan in collaboration with the developer," the broker said.
That means there's a 53-foot-long entertainment space interrupted only by a glass-enclosed fireplace. "It's very dramatic, very dramatic; you walk in and it's right there, bang," Ms. Van Doren said. That living/dining room, the master bedroom, the master dressing room ("as large as a large maid's room, basically") and two extra bedrooms have open harbor views facing south.
The three other bedrooms, plus the kitchen and home office, face north toward the Hudson.
As for décor, Ms. Van Doren called the place "chic traditional." Marketing photographs show a pink bedroom with a yellow-orange shag carpet, a white-and-orange orb chair (with Union Jack pillow) and something pink hanging from the ceiling. "That's a kids' bedroom," said young co-broker Jared Seligman from the Corcoran Group. (He was referring to the renter's family, not the 21-year-old Olsen sisters.)
Marketing photos aside, this place is discreet. The penthouse has its own elevator landing, and then there's a freight elevator off a separate hallway that skips the lobby and goes to the garage.
Normally, that other egress is for the help. "You have a separate staff exit; you can have the most fabulous parties," Mr. Seligman said.
If the apartment ever has another pair of party-throwing starlets, they'll be happy to know that there are two walk-in closets plus that master dressing room, over 100 square feet each.