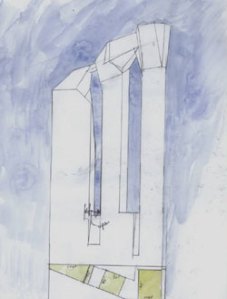 Extell Development Co.'s proposal for the Western Rail Yards, which is the first of five that the public and press can get a look at, really revs up the amount of green space on the ground by building tall. Really tall. The tripled-legged tower pictured to the right would stretch 1,238 feet into the air, rivaling the Empire State Building's 1,250-foot height, and outdoing that icon in total square footage and the size of its observation deck.
Other buildings in the Extell proposal are quite a bit smaller, but still considerable: at around 700 feet tall, the so-called "sun slice" buildings proposed for 30th Street orient their narrow sides to the south to cut down on shadows cast over the open space behind them.
According to the plans (PDF), the footprints of all buildings will take up just 25 percent of the property, compared to 52 percent in the plans proposed by the city and the MTA, leaving an extra 7 acres or so of open space. Also, the plan would eliminate any discharge of storm water by funneling it into a reservoir that would run through the center of the park, and the plan claims to reduce energy consumption by 50 percent thanks to a geothermal cooling system and cogeneration.
The development company, led by Gary Barnett, also proposes a Long Island Rail Road station along 33rd Street between 11th and 12th avenues. After all, you never know how long it will take them to build this No. 7 line.