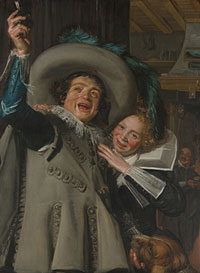 The Guardian's Richard B. Woodward is perturbed about the Met's recent shows, including its current Age of Rembrandt exhibition, in which large, scripted letters and superfluous descriptions seem to credit the benefactors more than the artists.
He writes:
"[T]he jingling sound of money [is] audible throughout and the subliminal appeals for more of it to replenish the museum's coffers. The title of the show is a misnomer and a ruse. The curators aren't examining the Dutch society that allowed Rembrandt and his contemporaries to flourish but rather celebrating the New York society that could afford to buy their work.
…
With the art market out of control, and old masters priced as bargains compared to the insane auction results for modern and contemporary art, the New York public has a right to expect its most established public museum will offer a critique on or at least haven from the frenzy of the marketplace. But all three of the recent Met shows seemed to exalt those with the smarts or cash to play it and succeed.
Well, "the rich New York collectors and board members who gave us the art and money to build a world-class group of 17th-century Dutch pictures" shows are nothing compared to the Chanel shows forced on the Guggenheim by meddling curator Karl Lagerfield.