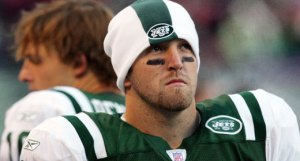 The bad news: It's mid-season and the Jets are in a nosedive, fighting to stay out of last place in the AFC East.
The (potentially) good news: there's been a big change at quarterback, and with eight games left and no hope for this postseason, there's plenty of time to see what some of the young players can do. Here are a few things to watch as the Jets take on the Redskins on Sunday:
1) The Clemens Succession: Finally, Eric Mangini saw enough. With the Jets offense ranking 30th out of 32 teams in total yards a game, he has decided to play second-year quarterback Kellen Clemens, who showed promise during two drives at the end of last week's 13-3 loss to the Bills. The Oregon alum was able to avoid rushes and throw fastballs to his receivers downfield–qualities that distinguish him from his predecessor. However, Clemens did show that he's a work-in-progress, throwing an interception after attempting a pump fake that Bills cornerback Terrence McGee didn't bite on. With the exception of last week's debacle against the white-hot Patriots, the Redskins are a tough defensive team that includes the NFL interceptions leader Sean Taylor and scary linebacker London Fletcher. Expect a few mistake throws from a young quarterback trying to learn his position.
2) Can They Make Some Tackles?: New York is allowing 134.3 yards per game on the ground. But this may be just the game to restore some of the defensive unit's confidence. Redskins back Clinton Portis has been ineffective running the ball in the past three weeks, averaging a paltry 2.7 yards per carry in those games. Still, the Jets will also have to contend with quarterback Jason Campbell's legs—he's third among NFL quarterbacks with 100 rushing yards.
3) Yet Another Rookie Starter: With Jonathan Vilma out for the rest of the year with a knee injury, second-round selection David Harris filled in for the star linebacker last week…and was sensational. Harris registered 17 tackles and a sack against the Bills in his first NFL start. Look for the versatile rookie to make even more plays as he continues to evolve into a playmaker for the Jets' 3-4 scheme.
4) Justin Time?: Reports coming out of Jets' practices indicate that wideout Laveranues Coles will be out of the game with a concussion he suffered last week. Leading receiver Jerricho Cotchery will probably be double-teamed by Washington's talented secondary, so who will pick up the rest of the slack? It could be Justin McCareins, who received Clemens' first throw in last week's appearance. Apparently they know each other well from their work together on the second team in practice. McCareins has dropped key passes this season, and this could be his best chance to redeem himself in the eyes of the coaching staff. If not, Eric Mangini won't hesitate to bench him.
5) Chad: The flip-side of the potentially uplifting Clemens narrative. Pennington a solid team guy, and can be taken at his word that he's going to dedicate himself to helping Clemens. But there's one thing that TV execs love to show during NFL games, and that's controversy on the sidelines.
Last week, when he was benched for Clemens late in the fourth, CBS showed the dismayed former starter standing on the sidelines, wondering where his career had just gone. There will be more of the same. The over/under on shots of Pennington standing around, trying hard not to make a face when Clemens makes a mistake? Six. Take the over.