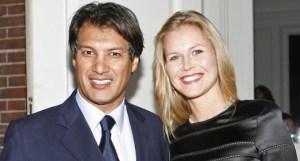 Last night, The Daily Transom chatted with Frédéric Fekkai, the haute hair salon mogul, who was co-hosting a party with his wife, Shirin von Wulffen and Martha Stewart, who was absent because of the death of her mother, Martha Kostyra, last Friday. Guests at the cozy affair—held in the Galerie Mark, which sits beneath the soon-to-reopen Mark Hotel on Madison Ave. and 77th St.—drank to the publication of Sandy Hill's new book on entertaining, Fandango.
We asked Mr. Fekkai what, in his view, makes the consummate host. "Entertaining, first of all, is a gift; it's a talent; and it's a passion," said Mr. Fekkai, who was standing in a dark suit near a cluster of chatty friends. "A great host is somebody who really makes everyone comfortable and is also someone who has elements of surprise in their entertaining. Those surprises are the ones that really make the evening very pleasant, otherwise it's just another boring evening," he added matter-of-factly.
Such entertaining skills apparently translate, at least in part, to Mr. Fekkai's own hair business, which, he said, will open a new salon in Dallas next week and another in Greenwich, Conn., in January. "For me, in my business, it is important that the surprise be a pleasant surprise….It's really about surprising them in the sense of weaving in something of them that they don't know, helping them with their beauty. And I believe that everyone is beautiful!" the super stylist gushed while a stunning Ms. Von Wulffen constantly circulated the small space, making absolutely sure to greet each and every guest—no easy task, we imagine, with some attendees darting in and out, refusing to check their bulky coats at the door.
But surely even Mr. Fekkai, arguably the consummate New York coiffeur, has had his share of disaster colorings, cuts and up-dos.
"When you start, you know, it's always a challenge in every job. You have to experience the good and the bad," he told us. "But the one who succeeds is the one who gets out of a bad experience and makes a good experience."