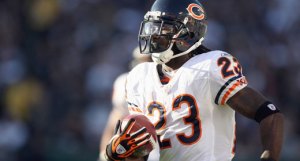 When the Giants step on to the hallowed ground of Soldier Field on Sunday, they're going to be facing a one-man wrecking crew.
Chicago's Devin Hester, the awe-inspiring punt and kick returner, is in his second year, but already has ten special-teams touchdowns in his career. He's also the same player who burned the Giants last season with a then-record 108-yard return of a botched field goal.
Luckily, the Giants have weapons in their corner to neutralize Hester and keep him out of the end zone.
Their punter is 20-year veteran Jeff Feagles, a player who has kicked more footballs inside the 20-yard line than anyone else in NFL history. Instead of specializing in the high, booming kicks most punters thrive on, Feagles can deliver precise, coffin-corner kicks that will fall short of the end zone, out of bounds or very close to the sideline and deprive the receiver of leeway to break into the open field. Feagles has been doing that for his entire career, rendering returners like Hester useless.
The Giants also have an outstanding special teams player of their own in David Tyree, whose speed and coverage won him a spot at the 2005 Pro Bowl. Whenever the Giants do punt directly to Hester, they'll be counting on Tyree to contain him.
On kickoffs, the Giants may have a chance to expose Hester's biggest flaw. He's prone to fumbling (14 times in his career, with three recovered by the opposition). Look for kicker Lawrence Tynes to attempt wobbly, pooched kickoffs that hit the ground at the feet of Hester's blockers and take an awkward bounce. That would be one way to prevent Hester from getting a running start—he has blazing speed, running the 40-yard dash in 4.33 seconds—and could give the Giants a better chance of forcing a turnover.
And if all else fails, the key to stopping Hester may come from above. If field conditions are sloppy, his speed will be neutralized and a wet ball will certainly increase the chances of a fumble. So far, it looks as if the Giants' prayers may be answered: the forecast calls for rain.