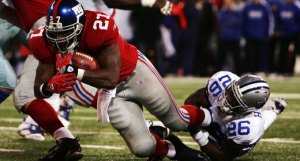 As the Giants pass the midway point of the 2007 season, they're starting to understand their identity. In their 31-20 loss to the Cowboys, they learned they have a quarterback who can't remember to watch the play clock and a secondary that can't be left to cover star receivers without help.
Going forward, they're figuring out that that the key to winning football games and competing for a playoff spot is a flourishing running game, the alleged glaring weakness at the beginning of their 2007 season.
This was the season, remember, that was supposed to crumble when Tiki Barber retired. Now, though, the Giants offense sits on the extremely broad shoulders of Brandon Jacobs and on the impressive versatility that has baffled defenses in the past five games, after the running back returned from a sprained MCL in his right knee.
In the second quarter of yesterday's game, during a seven-minute drive that ended in a Reuben Droughns touchdown, Jacobs showed all the weapons that make him, in some ways, just as dangerous as Barber ever was. As expected for a 6'4", 264-pound back, he used his massive size and bulk to ram huge defensive tackles and bowl over linebackers. On a second-and-seven, he took a handoff to the left and, seeing a hole opening up in the middle of the field, cut and accelerated through would-be tacklers. But that's when Jacobs showed the power in his legs, dragging three Cowboys for another three yards after contact.
Perhaps it's because Tom Coughlin doesn't completely trust Manning to get first downs, but Jacobs has become an option on third downs in what are normally no-brainer passing situations. In that same drive, on third and three, Cowboys coach Wade Phillips sent his pass rushers to the line and played man-to-man defense on the three Giant receivers. From the shotgun, Manning called a draw play to Jacobs, who followed Jeremy Shockey's block for a big first down, keeping the drive alive.
In addition to having to cope with Jacobs' north-south power, opponents have had trouble stopping his surprising ability to run with speed to the outside. Two plays after his first down during that same key drive, Jacobs stood in the single-back set and took what looked to be a simple run up the middle. Seeing the gaps stuffed, he took a cut to the right, turned a corner and went untouched for a 13-yard gain. Before the Week 10 showdown with Dallas, he was rushing for 6.3 yards per carry when taking the ball wide to either side. There aren't many ways a defense can stack the line to stop Jacobs up the middle and then expect to catch him cutting to the outside. (This extra element came about in large part because of work Jacobs did this past offseason with fitness trainer Joe Carini–the same coach who helped bulk up Barber years ago.)
Having Jacobs in the backfield has also aided New York's air attack. Many of the Giants' big gains this season have come on play action, as safeties continue to bite at apparent handoffs to Jacobs. In the first quarter, Manning completed a beautiful 22-yard bullet to Jeremy Shockey at the left sideline after faking the handoff to Jacobs.
While there are still a few facets of the third-year running back's game that weren't necessarily apparent in the loss to the Cowboys—he has looked lost on pass-blocking assignments and doesn't have the best receiving hands—Jacobs is essential to the Giants' success throughout the rest of this season. And even more importantly, he's made the Giants realize that they're no less of a running team without Barber as they were with him.