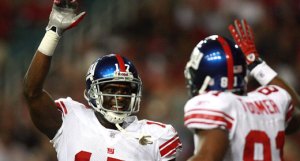 In New York's 16-10 win on Sunday over a tough Detroit Lions team, two truths became clear. One is that the Giants can no longer depend on Plaxico Burress to make the big play. The second is that it might not matter.
The success of their revised aerial attack, one that doesn't center around setting up Burress for the long pass-and-catch, will now comes down
to the trustworthy hands of a veteran and the speed of a burgeoning young receiver.
Eli Manning spread the ball around to nine different receivers, throwing short, quick passes instead of some of the longer throws he attempted last week against the Cowboys. The longest pass of the day came on a short catch by Brandon Jacobs, who turned upfield and ran for a 34-yard gain. As Burress's ankle injury continues to nag, Manning will have to look to two other receivers to pick up the slack.
One of them is Amani Toomer, the quiet 12-year veteran who continues to climb up the team's career leader board. After his big game against Atlanta in Week 6 (seven catches for 89 yards and a touchdown), Toomer seemed to have been forgotten in the Giants' last three games. But yesterday, averaging nearly 10 yards per catch, he proved that his crisp route-running and steady consistency is needed as the Giants change their passing offense from one that depends on bombs to Burress to an assault that thrives on quick routes and short passes.
The Lions seemed to catch on to Manning's dependence on Toomer as they double-teamed him on a third down play late in the fourth quarter, choosing to leave Burress one-on-one on the other side. Sure enough, cornerback Fernando Bryant got a hand on the ball for an incomplete pass. In a situation like that, Toomer becomes the first, most reliable option.
The other positive factor in New York's passing game is Sinorice Moss, last year's second-round pick whom the organization hoped would become the third option the offense needs to complement Burress and Toomer. Moss was billed as the second coming of his older brother, Santana, the Redskin who burned New York time after time.
After battling injuries in his first year and starting behind rookie Steve Smith on the depth chart this season, it looked as if he would be a bust. But this weekend, he showed the Lions why he was so highly regarded. In two of his four receptions, Moss used his speed to scare cornerback Fernando Bryant into dropping deep, then stopped on a dime and came back for the catches. While his fumble in the second quarter showed he's still got lessons to learn, Moss has the potential to step up and become an important cog in the Giants offense.
It's not that Burress has lost his usefulness, but he has certainly lost a step or two in his last three games as it appears that playing on his injured ankle has started to take its toll. After hauling in eight touchdown passes in his first six games, he hasn't caught one in the last four contests. Against Detroit, Burress opened the first offensive drive with a 9-yard catch on a crossing route. After that, however, Burress disappeared in the first half, only to emerge when Manning threw a long pass down the left sideline to where he thought Burress would be downfield. That's where the ankle injury seemed to have its greatest effect: Burress was five yards behind a pass that he could normally catch up to.
In the second half, the former Steeler also dropped two easy passes on that same drive to open the second half, perhaps due to a lack of practice. While Burress can still make athletic grabs, as he did in the 4th quarter on a 14-yard catch while falling to the ground, the days of 50-yard bombs are over until Burress' ankle heals, something that may not happen until the offseason.
The bad news for the Giants' offense is that they can't continue to rely heavily on Burress as their big play option. The good news, thanks to two teammates at the opposite ends of their careers, is that they don't have to.