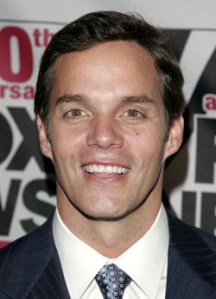 "He's an Ohio guy," said Bill Hemmer. "And I'm an Ohio guy. We Buckeyes stick together."
It was a recent Wednesday morning, and Mr. Hemmer, a native of Cincinnati, was sitting across from NYTV at a restaurant in the Muse Hotel on West 46th Street, talking about his boss Roger Ailes, the president of the Fox News Channel and scion of Warren, Ohio.
Until a few years ago, Mr. Hemmer and Mr. Ailes played on opposite sides of the ball. Mr. Hemmer, 43, made his name at CNN, where he rose quickly through the ranks over the course of a decade, reporting from the likes of Kosovo and Afghanistan and hosting a series of morning news shows.
By 2005, Mr. Hemmer was anchoring American Morning alongside Soledad O'Brien, and had seemingly emerged as one of the network's golden boys. "He practically had CNN tattooed on his forehead," said Daryn Kagan, Mr. Hemmer's friend and former on-air co-host.
That year, CNN president Jon Klein offered to make him the network's chief White House correspondent, a high-profile assignment that Wolf Blitzer had ridden to a prime-time anchor role. But Mr. Hemmer loved New York, and didn't want to move to that dreary political pumpkin patch on the Potomac. When CNN handed his American Morning anchor chair over to Miles O'Brien, his days at the network were numbered.
"Thankfully, Roger Ailes was there with open arms," said Mr. Hemmer. "I thought it was in my best interest to join the Yankees." (As a lifelong Bengals fan, Mr. Hemmer said he is still learning to enjoy life at the top of the cable news division.)
Joining the Yankees has been a good move for Mr. Hemmer. In February, Mr. Ailes teamed him with Megyn Kelly, an attractive former practicing lawyer, to host the 9 to 11 morning show America's Newsroom. The name seems spliced from two CNN morning shows (CNN Newsroom and Mr. Hemmer's old show, American Morning), but the show has enjoyed early success, averaging 961,000 viewers in November, a 15 percent increase over the same time period last year.
Meanwhile, in Mr. Hemmer's wake, CNN's morning programming has undergone several shake-ups, and continues to struggle. According to Nielsen numbers, passed along by Fox, American Morning is down 16 percent in total viewers since Mr. Hemmer's departure—and in November averaged less than half the viewers of Mr. Hemmer's new show.
"People ask me all the time what the difference is between CNN and Fox," said Mr. Hemmer. "It's day and night. We're a business. Viewers count. Ratings count. The store has got to stay open. We need customers."
Jay Wallace, FNC's executive producer of news, described Mr. Hemmer as a multifaceted correspondent who isn't tied to a prompter and who ad-libs well. According to Mr. Wallace, as the political campaign season progresses, Fox will probably further test Mr. Hemmer's range by sending America's Newsroom out into the field to places like Iowa and New Hampshire. "He can easily juggle world events into that coverage," said Mr. Wallace. "He's well-read and versatile."
Mr. Hemmer took another sip of his coffee and launched into a story about flying to Louisiana with a lean four-person team to cover Hurricane Katrina on his first assignment for Fox. There, on the sweltering streets of Baton Rouge, he came face to face with a 15-member CNN crew, who were busy eating pizza.
Mr. Hemmer shook his head. A pizza party in a disaster zone? He said the story was telling of an organization that had grown plump and was no longer hungry. "At Fox we do more with less," he said. CNN declined to comment, but it's worth noting that the network is comprised of multiple channels, including Headline News, CNN International and CNN en Español, which could account for the larger team.
As a kid, Mr. Hemmer, too, learned to do more with less, as the middle of five children growing up in Cincinnati. His dad was a mattress executive. His mom was a homemaker. As a teenager, he had many odd jobs. He managed a produce department, loaded mattresses onto trucks, delivered motor engines to Indiana and Kentucky and washed dishes at a chili joint.
These days, Mr. Hemmer splits his time between a luxury apartment in Greenwich Village and a swank spread in the Hamptons. Of his siblings, Mr. Hemmer is the only one who's yet to marry. In recent years, the son of a mattress executive has inspired much speculation about the details of his own mattress-hopping. Mr. Hemmer declined to kiss and tell.