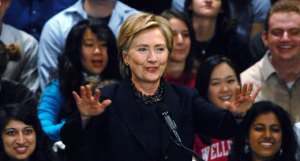 Hillary Clinton still might lose, but if it's going to happen, she'll have to take it on the chin in the first contest on the nominating calendar, the January 3 Iowa caucuses.
A Clinton defeat there—she is now bunched together with Barack Obama and John Edwards in polls—would instantly alter the prevailing narrative of the Democratic race, casting doubt on the inevitably she has worked so hard to cultivate and creating an opening for her opponents to roll the "Big Mo" of Iowa into other states.
Otherwise, Mrs. Clinton probably has too much working in her favor to be stopped.
Realistically, there are four possible outcomes in Iowa. For Mrs. Clinton, the best scenario, obviously, is the simplest: win Iowa.
If she does that, then securing the nomination should be a relatively seamless and bloodless transaction. Why? Because the next state to vote will almost certainly be New Hampshire, where—unlike in Iowa—Mrs. Clinton is the clear and undisputed front-runner, ahead of Mr. Obama by 20 points in polls and Mr. Edwards by nearly 30 points. No matter what, those numbers will tighten some as the primary approaches, but they will only move dramatically if the Iowa results fundamentally shake up the Democratic race.
If Mrs. Clinton triumphs in Iowa, she will almost definitely win New Hampshire – and if she can pull off that one-two punch, she'll be an unstoppable force going forward.
Another possible Iowa outcome is a win by Mr. Edwards, who won 32 percent in the state's 2004 caucuses and who has spent so much time camped out there that some have taken to calling him "Governor."
Mr. Edwards is staking everything on Iowa, but even if he succeeds, it's not really bad news for Mrs. Clinton, as long as she finishes in second place. The reason: the main threat to Mrs. Clinton's nomination is Mr. Obama, not Mr. Edwards—and a third place finish in Iowa would severely complicate Mr. Obama's nomination roadmap, since he'll need an Iowa bounce to catch Mrs. Clinton in New Hampshire.
Under this scenario, then, Mrs. Clinton would still likely win New Hampshire, where Mr. Edwards and his message have never gone over well. Instead, Mr. Edwards, who faces financial restriction that Mrs. Clinton and Mr. Obama do not, would try to roll his Iowa victory into South Carolina. But with a New Hampshire under her belt, Mrs. Clinton would still be in position to defeat him there. And even if she didn't, she'd still have enough money, organization and inevitability to swamp him in the February 5 mega-primary, much the way her husband overwhelmed Paul Tsongas on Super Tuesday in 1992.
The third potential Iowa scenario is an Obama win—again, with Mrs. Clinton finishing in second place. Unlike the first two scenarios, this outcome would immediately throw Mrs. Clinton's claim to the nomination into jeopardy.
An Obama win in Iowa would kill off Mr. Edwards' campaign, immediately giving Mr. Obama what he has craved all along: a one-on-one shot against Mrs. Clinton. Moreover, an Iowa victory would propel him to New Hampshire with kind of poll-altering momentum enjoyed by John Kerry in 2004 and Gary Hart in 1984.
New Hampshire, where independents vote in large numbers in the Democratic primary and where voters tend to like thoughtful outsiders, has always been a ripe target for Mr. Obama. If he could ever pull off a win there, then he will have defeated Mrs. Clinton in the first two contests. And Mr. Obama already has the money to pursue an aggressive post-Iowa/New Hampshire strategy.
The fourth Iowa scenario is the least likely, but could potentially be the most damning to Mrs. Clinton: a third-place finish for the former First Lady—particularly a distant one, like when then-Vice-President George H.W. Bush finished behind Pat Robertson in the 1988 G.O.P. caucuses. This scenario would give both Mr. Obama and Mr. Edwards new life, while Mrs. Clinton's showing would be deemed catastrophic by the media, turning New Hampshire into a make-or-break state for her.
The catch in this scenario is that a virtual three-way tie with Mrs. Clinton in third could work for her, with the razor-thin numbers preventing the media from declaring her the unqualified loser. And if Mr. Edwards and Mr. Obama both press ahead after Iowa, Mrs. Clinton could benefit from a split anti-Hillary vote.
As the election has gotten closer, Mrs. Clinton's lead nationally has only seemed to grow.
But as all the candidates are clearly aware, Iowa could change everything.