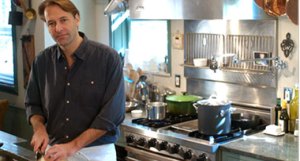 THE ELEMENTS OF COOKING: TRANSLATING THE CHEF'S CRAFT FOR EVERY KITCHEN
By Michael Ruhlman
Scribner, 244 pages, $24
There's a style of food writing that has proliferated in recent years, a sort of precious, overdone prose that makes me want to scratch my eyeballs out. I love eating food and I love making it. The former I don't need help with. The latter I do, but I would prefer as little background chatter as possible. I'm trying not to cut my thumb off here.
The Elements of Cooking, Michael Ruhlman's smart, clear and deceptively concise treatise on food and cooking, is a welcome relief from this trend, and an instant addition to the shortlist of books that are genuinely useful to the amateur cook.
It resembles one of those 19th-century books on early American cookery, with no pictures, drawings or diagrams of any kind. It's broken into two sections: a grouped series of short essays on the fundamentals (stock, salt, eggs and a few other things) and a comprehensive glossary of food and cooking terms. The book succeeds, in part, because of this hard-to-categorize format: not cookbook, not memoir, not science book, but a unique mixture.
The glossary, which consists mostly of short paragraphs about everything from deep-frying to espagnole sauce to cross contamination, is superbly done. It's a good reminder that even if you've been cooking awhile, there are likely to be many basic rules or concepts you've never properly learned. Mr. Ruhlman is skilled at explaining even esoteric matters simply and clearly: You wouldn't dream of poaching a pork chop—but do you know why? Mr. Ruhlman will tell you, promptly and without pretense.
He cites two primary sources of inspiration for his book: The Elements of Style, which you probably own, and On Food and Cooking, which you probably don't, unless you already spend a fair amount of time in the kitchen. It's by Harold McGee, and it explains the basic science of food and cooking in fascinating yet exhausting detail. I happen to own it, and though I don't question its importance or usefulness, it rarely comes down from my shelf; I've always been daunted by its sheer size and scope. Mr. Ruhlman has distilled Mr. McGee's teachings into a volume and format the amateur cook will find easy to absorb.
As for his other, more literary inspiration, Mr. Ruhlman has done his homework. Flashes of the dry, prescriptive wit of that classic show up here: "Avoid inexpensive nonstick pans and the people who sell them"; "As a rule, any tool that has only one use should be avoided"; and so on. Mr. Ruhlman's writing is beautifully simple and clean, and generally a pleasure to read.
The essays drift periodically, but never intolerably, into foodie-ese, and the author has a weakness for superlatives—knowing how to salt properly is "the greatest skill" a chef can possess; veal stock is "the essential"; Mr. McGee's is "the most important book about food and cooking ever written, probably in any language, probably that ever will be." All true? Perhaps. But the superlative's power decreases in direct proportion to the frequency of its use.
Michael Ruhlman plainly intends for Elements of Cooking to be a staple of the amateur home cook's bookshelf, wedged somewhere in between The Joy of Cooking and Marcella Hazan. It has earned its spot.
Jesse Wegman is managing editor of The Observer. He can be reached at jwegman@observer.com.