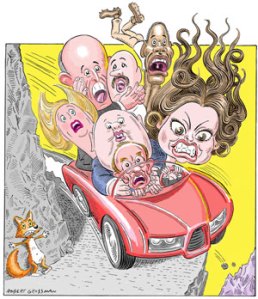 "I always got along with creative people," said Judith Regan, the 54-year old former book publisher who has brought a $100 million lawsuit against News Corporation, its book publishing division HarperCollins, and HarperCollins president and CEO Jane Friedman. "I was that quirky, eccentric, creative person," she continued. "I was off in my own lab doing my thing, playing, doing my thing, laughing. I never expected to become as successful as I was. I never had any of those goals.
"Never ever, ever."
That is Judith Regan 2007 speaking. About a year ago, Ms. Regan was head of her own imprint, ReganBooks, at HarperCollins, granted by News Corp. chairman Rupert Murdoch himself in 1994. Earlier that year, she completed her staff's move to Los Angeles—Century City—and dark-sheened, glossy-lipped, hard-nosed Judith Regan was doing what Judith Regan would do in L.A., signing authors and making deals. She also had a radio show, on Sirius Satellite Radio, that she recorded in her new offices.
It seemed as though the whole impetus behind the L.A. move—the synergy that would package the entire Judith Regan style, a raw, unflinching, sexy, direct, aggressive curiosity, a dismissal of prissy publishing convention, a roaring office manner, a personal voraciousness, a good old-fashioned vulgarity—might actually work in Hollywood.
She had booted the New York stiffs and taken her business to L.A., where they didn't know from publishing convention, and where a tough boss could yell like a studio executive as long as she was a success. And if there was one thing Judith Regan knew it was how to make best sellers—four Times best sellers in 2006, though that was a drop-off from the previous year, when she'd had 14.
And then, last year, it crumbled around her.
In November 2006, HarperCollins provoked a public outcry when it announced plans for ReganBooks to publish a bizarre "hypothetical" tell-all by O. J. Simpson, in which he described the steps he might have taken had he killed his ex-wife Nicole Brown and her friend Ron Goldman. The royalties of If I Did It would go to a trust for his children. To accompany the book, Fox would broadcast a two-hour interview that Ms. Regan had conducted with Mr. Simpson, after Barbara Walters and ABC had backed out, in which she asked him about the murder and just about got him to confess.
Cue public outrage, stoked by, among others, Fox's own Bill O'Reilly, who declared on air: "I'm not going to watch the Simpson show or even look at the book. I'm not even going to look at it. If any company sponsors the TV program, I will not buy anything that company sells ever."
If there were questions about Ms. Regan's taste, they were compounded by the report that she was preparing to publish a tawdry-sounding fictionalization of the life of Mickey Mantle.
When the dust settled, Ms. Regan was out of a job, amid accusations from HarperCollins, which she has denied vehemently, that she had referred to a group of HarperCollins executives and a prominent New York literary agent as "a Jewish cabal."
That was that: There was an order sent by Rupert Murdoch to Ms. Friedman, the HarperCollins chief, and Century City was no longer Judith Regan's second home.
But no one expected Ms. Regan to go quietly. After dropping out of sight for much of this year, on Nov. 13 she filed a lawsuit against News Corp, HarperCollins, and Jane Friedman for defamation, breach of contract, and sex discrimination.
Most spectacularly, the lawsuit alleges that Ms. Regan was the victim of a vast conspiracy, set in motion by two unnamed News Corp executives, who were worried that she would expose secrets about her now-indicted former lover Bernard Kerik—the former New York City police commissioner—that would imperil his former boss Rudy Giuliani's presidential bid. News Corp conspired to not only fire her, according to the lawsuit, but also defame her and discredit her so that any allegations she made would be immediately discounted as the ravings of a crazy person.
HarperCollins and Ms. Friedman declined to comment for this story. A News Corp spokeswoman called the suit "preposterous."
According to a source close to Ms. Regan and familiar with the negotiations, she was offered a $6.5 million settlement in August but turned it down. Bertram Fields, Ms. Regan's lawyer (though he is not directly representing her in the case) told The Observer last week: "We told them their number was unacceptable. They were warned in advance that she was going to file if they didn't increase the settlement offer they'd made and they responded that they were not going to increase it by one dime. And as a result she filed. "
If there's one thing Judith Regan has, it's impeccable timing. Whether it was deliberate or not—and no one's saying—having her lawsuit ready to go just as the first indictments were handed down against Mr. Kerik is a not-so-subtle stroke of genius. Just as he is getting further discredited in the public eye, here comes his former girlfriend to say that not only was he a cheat, but he also might have told her incriminating stuff about the current leading Republican presidential nominee.
And the rest of the charges—that executives at the biggest media company in the world leaned on her to keep quiet about a relationship she'd had because it might harm the chances of the G.O.P. front-runner—were so sensational, and reached so far into the very highest echelons of American and international media and political power, that, as with most conspiracy theories, the immediate reaction from many commentators was one of ridicule.
But looked at in another light, the lawsuit's very scope may be revealing in a different way. After all, by sticking narrowly to the breach of contract angle, Ms. Regan would likely have increased her chances of winning. Why go further, and threaten to bring down senior News Corp execs and upend the 2008 presidential campaign? In other words, does Judith Regan have a smoking gun? Or is this just her next sensational, headline-grabbing project?