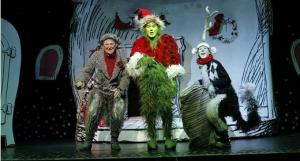 While the city comptroller estimated that the city is losing about $2 million a day because of the strike, producers are becoming more aggressive against striking theaters. Local One agreed to work Broadway's How the Grinch Stole Christmas show. However, the producers of Grinch still needed to gain approval from Jujamcyn Theaters. That approval was not granted.
In response to the League's decision, producers of The Grinch will take their case to court. In a statement released at 5:30 PM Nov. 19, Grinch producer James Sanna said, "We appreciate that Local One has recognized our pre-existing agreement and has lifted the strike on The Grinch in spite of their differences with the League. We are going to court tomorrow to seek an injunction to require Jujamcyn to open the doors to families and children planning on coming to the theatre this week. We need someone who believes in the spirit of Christmas to enable the show to re-open for the holidays."
The reason Grinch might have been able to reopen is the production had negotiated its own contract with Local One prior to the strike because the musical offers 12-to-15 a week, different from the eight-performance schedule most other shows employ.
While the League's contract with the stagehands expired in July, Grinch began negotiating its own contract with the stagehands in the spring, came to an agreement Aug. 30, and executed it a few weeks later, Grinch general manager Waggett had previously told Playbill.com. Therefore, he said, "Our point of view is that our contract is, in fact, still in effect," but the stagehands still decided to include the show in its strike.