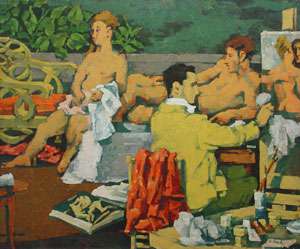 It's an old story, but it's a good one. A painter pursues an elegant brand of abstraction quavering with muted sonorities of light and color, elicited from a searching, anxious hand. The canvases garner attention; the artist a considerable reputation, particularly among fellow painters. A subsequent and surprising turn to figuration alienates peers and admirers; the artist, or so it is said, has turned away from history's inexorable march. Eventually, however, the late paintings are seen as a triumphant culmination of determination and individuality. History vindicates the transition.
Philip Guston's heroic transformation from sensitive adjunct of the New York School to figurative painter of garish intensity is deservedly the most well-known instance. It's also the story of his friend, Rosemarie Beck (1923-2003), whose paintings are on display at Lori Bookstein Fine Art.
Rosemarie who? Beck studied art history and music at Oberlin and N.Y.U., and, later, the Art Students League. Her primary training as a painter was casual, but highly informed. She benefited from the artistic milieu of her home in Woodstock, N.Y. Guston was a neighbor, as were Bradley Walker Tomlin and Robert Motherwell. Beck became a habitué of the New York scene, hanging with the Abstract Expressionists at the Cedar Tavern and attending panels with the poets and critics at the Club on East Eighth Street. She was in the know and in the thick of it.
Beck's paintings of the time resemble Guston's quasi-Impressionist abstractions. Emphatic dabs of paint, placed roughly at right angles, nudge up against each other. They stutter and coalesce into architectural fields of warm light. In House of the Sun III (1956), buttery dabs of ochre, creamy white and darting slurs of phthalo green emerge from a pale, greenish ground. Painting #2 (1953) and Untitled (1952), with their up-ended horizons, are less disembodied and more massive.
The natural world filters through Beck's abstractions, but they're studio confabulations through-and-through and suffer because of it. Notwithstanding her direct approach, the canvases are academic, their sophistication rigid. Guston was an overpowering influence—Beck's paintings don't slip out from under it. Like a zillion other AbEx knockoffs, the paintings are honorable, heartfelt and less than necessary.
TO US, NOT Beck. Images, massive in optical weight and compositional scale, begin to emerge from underneath her myriad pasty brush strokes. Beck's touch gains in surety and strength as it begins grasping on to identifiable phenomena. The Cezannesque still life House of Venus (1957) isn't altogether clear. We see a bowl and a bottle, but the shapes on the right, while tangible, are amorphous and somewhat confused; they push forward in space with blunt insistence. Maybe they're a table cloth, maybe not. Either way, they're out of sync with the rest of the painting.
The bisected composition of House of Venus with Botticelli (1958) almost gets there; the clear division between identifiable things at top and boxed-in oddments below is disjointed all the same—the bottom of the composition is a clatter of semi-recognizable objects. Self-Portrait (1958) is aided, in no small part, by Beck's imperious, pharaonic demeanor. She didn't, it would appear, suffer fools gladly.
Beck continued to embrace domestic, close-to-home scenarios. The paintings became increasingly geared less toward the reigning aesthetic than to idiosyncratic vision. "Abstract art is too concrete," Beck wrote in her journal. "Art which uses the object for reference involves true abstraction." She sought an art that would "prime" and "temper the spirit." The shift in emphasis alienated peers and did significant harm to her career.
The exhibition peaks with Studio with Lovers (1965-66), a classically staged tableau featuring a painter studiously working from two models. It's a droll joke: The image on the painter's canvas doesn't correspond to the setup and is interrupted by a depiction of his own hand. The lovers embrace on canvas; in the studio they're separate and distracted. The artist sits stiffly, dabbing away. He's got a job to do.
The picture's appeal derives from an unerring marriage of specific objects and Beck's signature brush stroke, a touch that had gained substantially in luminosity. The palette is sweet, deep and strong; her touch incisive, layered and sure. Chunky brush strokes gather together with structural unity. The curt abbreviation of form in the red cloth draped over the painter's chair is a painterly tour de force.
The Bookstein gallery's curators emphasize comparison over chronology. The exhibition's title promises transition, but stresses continuity: Beck's abstractions are hung side-by-side with the representational paintings. It's a good lesson, though you do wonder if an installation that followed stylistic development might have been more effective; certainly, it would have been more dramatic. Even so, if Abstraction into Figuration doesn't reveal a contender, it does point up an ambitious artist who stayed true to herself and whose paintings radiate deep-seated and hard-won pleasures
Rosemarie Beck: Abstraction into Figuration: Paintings 1952-1966 is at Lori Bookstein Fine Art, 37 West 57th Street, until Dec. 1.