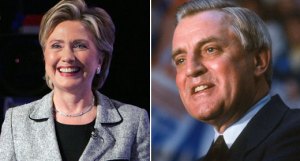 Forget all the comparisons from the Democratic also-rans between Hillary Clinton and Howard Dean.
To paraphrase Lloyd Bentsen: 2008 is no 2004. The dynamics of this race are vastly different and the foundation of Mrs. Clinton's campaign, aided by deep establishment support and a perception of inevitability that's been nursed by the media for years, is far sturdier than Dr. Dean's ever was.
The more apt parallel is to 1984, with Mrs. Clinton assuming the role of Walter Mondale, who entered the race in early 1983 as the clear favorite and spent the rest of the year gobbling up endorsements, cash and headlines. During that time, numerous other Democrats entered the ring, but only one, John Glenn, ever threatened Mr. Mondale for the top spot—and only fleetingly at that.
Four years removed from the Vice-Presidency, Mr. Mondale campaigned on inevitability and experience, assuring Democrats that "I am ready to be President now." Party leaders, at the national level and in the key early states, not wanting to be deprived of a seat on the Sure Thing Express, fell into line without a fuss. Mr. Mondale's financial operation was astonishing: As 1984 rolled around, he was on pace to spend nearly $20 million by April 1—a then-unheard-of sum close to the primary-season spending limit for candidates taking federal matching funds (which all candidates did back in those days).
By the middle of January '84, a month before the lead-off Iowa caucuses, a national Gallup poll pegged Mr. Mondale as one of the most dominant front-runners of all time, leading the crowded pack with 47 percent, a 31-point lead over the fast-fading Mr. Glenn. Early state polls looked similar: Mr. Mondale thumped his rivals by more than 40 points in Iowa and by nearly 30 in New Hampshire. Weeks later, a CBS News poll placed Mr. Mondale a staggering 49 points ahead of his nearest rival—a record for a non-incumbent in a presidential race.
The contest for the Democratic nomination, it seemed, had turned into a remarkably simple transaction: Blowout Mondale wins in Iowa and New Hampshire would end whatever suspense remained, forcing the other candidates from the race and allowing the former V.P. to coast to the nomination while getting an early start on the fall campaign against Ronald Reagan.
And so it goes today for Hillary Clinton, who overwhelms her foes in national surveys and lopsidedly leads polls in every state except Iowa—an even stronger position than she was in when she entered the race as the front-runner last winter. Like Fritz Mondale, Hillary touts her supposedly unrivaled experience and inevitability, going so far as to insist to Katie Couric this week that she hasn't even considered the possibility that she might lose the nomination. And just like Fritz, her campaign has thrived by twisting the arms of party leaders in Washington, Iowa and New Hampshire with the implicit (or not) suggestion that the train is leaving the station.
Mrs. Clinton is the most formidable front-runner to come along since Mr. Mondale. But the example of his campaign proves anything, it's how quickly and thoroughly Mrs. Clinton's campaign can still unravel.
The Mondale Machine, so sleek, so cocky, and so unstoppable for more than a year, came apart with stunning speed, beginning on the night of February 20, when he won Iowa by a three-to-one margin—but was still declared the loser by the media. That Mr. Mondale secured 48 percent of the vote surprised no one. But second-place finisher Gary Hart's 16 percent performance was a revelation. Mr. Hart, a second-term Colorado Senator who campaigned on "new ideas" like military and tax reform, had barely registered in national polls. At last, those who weren't bowled over by the Mondale Machine had a horse to ride.
The outcome in Iowa instantly transformed the complexion New Hampshire race. Before the caucuses, Mr. Mondale had hovered near 40 percent, with Mr. Hart at nine percent. But just four days after Iowa, the Mondale lead had shrunk to 30-23 percent. Support for the other Democratic candidates—Mr. Glenn, Jesse Jackson, Fritz Hollings, Alan Cranston, Reuben Askew and George McGovern—dried up as their backers moved to Mr. Hart. On primary night, just eight says after Iowa, Mr. Hart claimed a decisive 13-point New Hampshire win, 37-24 percent.
Mr. Hart's secret weapon in New Hampshire, where the Democratic establishment flocked to Mr. Mondale early on, was independent voters. There was no competitive G.O.P. primary in '84, so independent participation in the Democratic race doubled from its 1980 level. Among registered Democrats, the New Hampshire race was a tie. Among independents, Mr. Hart blasted Mr. Mondale, 42-19 percent. Overwhelmingly, these voters told pollsters that they felt "change," the message championed by Mr. Hart, trumped "experience," Mr. Mondale's calling card, in importance.