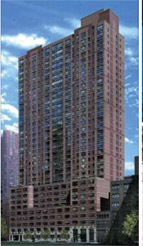 When the new season of Bravo TV's reality series Project Runway debuts on Wednesday, you might notice a change of scenery.
After three seasons housed in the luxury high-rise Atlas building at 66 West 38th Street, the show's competing designers were relocated this summer to the equally luxe New Gotham building at 520 West 43rd Street.
"Atlas had become so recognizable — it was a 'stop' for fans who would tour the sites of Project Runway, hoping to get a glimpse of the action," according to a spokeswoman for the Gotham Organization, which owns both apartment buildings.
"While that was not THE MAIN FACTOR in the move, it was a factor in the move," she said via email. "The main reason was that the producers wanted to change it up, add an element of surprise."
The show's 15 contestants were housed among six apartments for two months this past summer, a combination of one- and two-bedroom units ranging in size between 650 to 1,000 square feet.
The average rent would normally range between $3,100 to $4,100 per unit per month, if Gotham weren't donating the space for the show.
"We get our name in the credits, you know, and put our brochures in the gift bags that they pass out at the runway show," Gotham President David Picket previously told The Observer.
"We've had a lot of fun with it," he said.