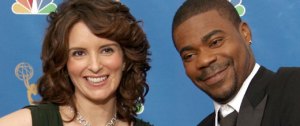 The striking cast members and writers of NBC's 30 Rock and Saturday Night Live programs will present one-night-only live performances of the shows at the Upright Citizens Brigade Theatre this weekend. The (already) sold-out performances will benefit the Writers Guild strike fund.
"Saturday Night Live" will feature a collection of favorite sketches, hosted by Michael Cera, the young star of "Superbad." The musical guest will be Yo La Tengo. The entire current cast of "SNL" has been confirmed for the 11:30 PM performance on Nov. 17.
The live performance of "30 Rock," scheduled for Nov. 19 at 8 PM, will feature the complete cast of "30 Rock," including Tina Fey, Tracy Morgan, Jane Krakowski and Alec Baldwin. The star-studded cast is scheduled to perform a live episode from the popular series.