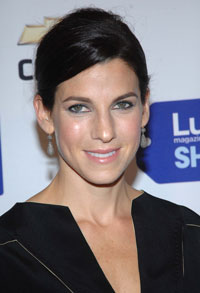 Today, beneath a pretty picture of a New York sunset, David Patrick Columbia reports that he doesn't much mind that his online gossip column is often referred to as a "gossip column." Then, in reference to the Times Fashion & Style piece about Jessica Seinfeld in yesterday's paper, Mr. Columbia explains that reporter Allen Salkin contacted him to find out if, in his view, Ms. Seinfeld was indeed a social climber. It seems Mr. Columbia doesn't think it's possible for someone to be a social climber anymore, because, as he writes, "things are moving too quickly. What people can be is self-promoting." (In the columnist's view, self-promoting is what makes New York City "go.") Mr. Columbia wraps up his rant by drawing an interesting connection between the Seinfeld marriage debacle and a 1975 movie starring Charles Grodin. Seriously.
Mr. Columbia writes:
"The Seinfeld marriage story was actually first a movie, written by Elaine May, the great comedienne and one-time partner of Mike Nichols. It was called "The Heartbreak Kid," starring Charles Grodin and released in 1975. In it the character played by Grodin meets someone else on his honeymoon and ditches his wife for her. The ditched "wife" is also a whining princess and the new girl is hot hot hot, and so it's easy to see the motivation. Either or, which would you choose? Well then, who can honestly criticize Jessica Sklar Seinfeld? It's years later. She's got three kids. She writes cookbooks (at least sorta), she gets baby clothes for mothers who need them. She does TV, like Oprah and The Today Show. So she likes a little attention. Buy the cookbook; make yourself something scrumptious to eat. For that you can thank Jessica. And your friend Seinfeld for marrying her and getting her into the New York Times. The Paper of Record."