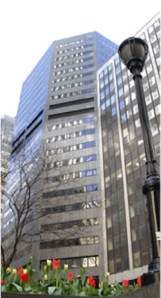 The Tokyo-based Mitsui Fudosan Co., a leviathan of the real estate industry in Japan, earlier this month made its first New York acquisition in two decades, paying $180 million to Lighthouse Ventures for 100 William Street, according to a source familiar with the deal.
So is it time to spin some music from the late 1980's and reminisce about the days when rising Japanese firms poured money into New York real estate?
Perhaps, though Mitsui Fudosan in the 21st century seems to be moving at a relatively slow pace in the U.S. Last year, the company announced its intention to oil up its property-buying gears and start acquiring real estate in New York again, though 100 William Street marks its first purchase since.
Such acquisitions had ceased with the collapse of the Japanese economy in the early 1990's, after which the firm sold off some of its American portfolio. Through the fiscal storm, the firm did hold onto its flagship American property, 1251 Avenue of the Americas, a decision that is proving lucrative today given that the 2.4 million-square-foot building is said to command rents past $100 a square foot.
The deal also marks one of the largest sales downtown in months. The CB Richard Ellis team led by Darcy Stacom and Bill Shanahan represented the sellers. Mitsui Fudosan and the brokers did not comment on the sale.