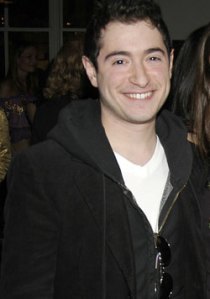 "The minute they asked me to do it, I thought, well these people are smart," said Jason Fuchs, the 21-year-old stage and screen actor. "They recognize Jason Fuchs!" he joked, explaining his interest in starring in the Roundabout Underground's production of Speech & Debate, currently playing until Dec. 16.
Staged by Jason Moore, the Tony-award winning director of Avenue Q, Speech & Debate focuses on three outsider-y students forced to form a speech and debate team while grappling with their sexual secrets in the doldrums of Salem, Ore.
Diwata (played by the Philly-based actress Sarah Steele) is one of those eccentric theater types who has her own blog and podcast, on which she performs songs about the high school theater teacher being a "crap sandwich" for not casting her in the school's production of "Once Upon a Mattress." Howie (played by Gideon Glick, who was Ernst in the Tony-winning original cast of Spring Awakening) is the new kid. Transplanted from Portland, he has been out since elementary school and wants to form a Gay Straight Alliance group. Mr. Fuchs plays Solomon, a nerdy student who wears his shorts a little too high, babbles with a slight lisp and takes competition and school work just a little too seriously (think of a less-rageful version of Reese Witherspoon's Tracy Flick in 1999's Election). Solomon is doggedly researching an article for the school newspaper about a town sex scandal and doesn't know when to stop asking questions.
"I think being a journalist and having an inclination to ask the questions instead of answer them play into the way [Solomon] holds himself. I mean he doesn't want to be noticed," Mr. Fuchs explained in a phone interview. "I don't think he wants to be noticed because if he gets noticed, people are going to look at him a little closely and ask questions he's not willing to provide answers for."
By the end of the play (which culminates in a hilarious dance performance to George Michael's "Freedom" which is alone worth the ticket price), Solomon will learn more about his speech and debate pals, and himself, than he ever expected.
Speech & Debate was written by Stephen Karam, who wrote "columbinus," about the 1999 high school shootings in Littleton, Colo. for last year's New York Theater Workshop season. Mr. Karam takes on high school life and relationships with humor and facile language, but doesn't fade into the John Hughes territory of predictable romantic plotlines (don't expect Solomon to lipsync "Try A Little Tenderness" in an unsuccessful attempt to woo Diwata) or easy answers. With Speech & Debate, he found a voice for the recluses–the characters you'll never see on an episode of Gossip Girl–to yield insight into questions of sexual identity, moral confusion, and the awkwardness of being a teenager trying to discover yourself.
Walking the tightrope between humor and drama is just what drew Mr. Fuchs to playing Solomon.
"I feel like there's so few roles out there where you can have very real emotional feelings like Solomon does, where he can find some kind of emotional identity and then five minutes later be dancing to George Michael's 'Freedom,'" he explained. "I think it was that very realistic combination of reality and drama that really excited me about Solomon. So many times, when you're doing comedy, you're doing comedy and if you're doing drama, it's drama, so it's so much fun to be going to the theater everyday that's so real and all over the map range-wise."
You might recognize Mr. Fuchs, (whose last name is pronounced "Fewks") from his Young Artist Award nominating-roles; one for an appearance in Law & Order: Criminal Intent as the son of a psychiatrist who tried to have someone killed at his Bar Mitzvah, and another for the 1998 comedy Jane Austen Mafia!, starring Lloyd Bridges, Christina Applegate and Jay Mohr. Mr. Fuchs also wrote, produced and starred in his own short film, Pitch, which was selected to be screened at the Cannes Film Festival. Apparently, his film studies at Columbia University are paying off!
After finishing his run at Roundabout, he will go into production late next year with director Jonathan Lynn (My Cousin Vinny, The Whole 9 Yards) on a script he wrote for a new romantic comedy, "The First Last Time."
"I'm biased toward romantic comedies, they're probably my favorite genre," Mr. Fuchs said. "I'm a sucker for When Harry Met Sally and all that romantic stuff."
For now, he doesn't mind navigating the drama, and hilarity, of Solomon's life.
"It's been fun to play a character who's finally learning who he is as a person and figuring out what he needs to do to be that person. I almost feel like if you met Larry Craig or Mark Foley when they were 16 years old, they wouldn't be so different from Solomon."