Jersey Joke: How the Garden State Became a Congressional Battleground
Jersey Joke: How the Garden State Became a Congressional Battleground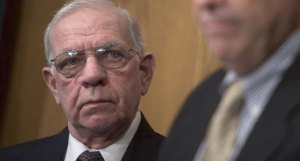 The dismissive view of Capitol Hill in the bossist culture of New Jersey politics was best articulated by John V. Kenny, one of several Jersey City mayors to have been involuntarily retired to a federal penitentiary: "How many jobs does a congressman have?"
And yet almost by accident, New Jersey may host three of the most competitive House races in the country next year, becoming a key cog in Democratic efforts to buttress the narrow majority they claimed last fall.
The identity of one targeted Republican has long been known: Mike Ferguson, a thirty-something, fourth-term Congressman once seen as a rising star, narrowly avoided becoming an unexpected casualty of last fall's Democratic wave. The Democrat he edged out by less than two points, Assemblywoman Linda Stender, is running again—and this time national Democrats are promising to send the kind of financial help they didn't in 2006.
This being New Jersey, the story of Mrs. Stender's rise is actually further testament to the low regard party bosses have for national politics.
Just four years ago, the Democratic state senator from the same Central Jersey district she represents in the Assembly was detained in an Atlantic City casino, caught on a security camera making a graphic and unsolicited sexual proposition to a woman he'd never met. When the woman called a police officer over, the solon proved he possessed the same survival instincts of every self-important politician the world over: He asked if the officer knew who he was.
The news broke a few weeks before the election and the senator—under pressure from the Union County political bosses who put him in office in the first place—quickly resigned, allowing the party chiefs to pick his replacement behind closed doors.
Mrs. Stender, supposedly next in line as the district's assemblywoman, wanted the job. But the bosses wouldn't hear of it: New Jersey state senators can scotch gubernatorial appointments at will—"senatorial courtesy"—a power that the bosses craved for themselves. So instead of Mrs. Stender, they installed a machine loyalist from Linden whose main qualification was his close ties to that city's mayor and party boss, a sometime felon named John Gregorio.
But when Mrs. Stender decided she wanted to run for Congress it was a different story. Members of Congress, of course, don't have senatorial courtesy, meaning Mrs. Stender would be no threat to the bosses, who no longer felt it necessary to use a Linden hack to box her out. In New Jersey, if you can't beat a local politician who gets too independent, you let him (or her) run for Congress.
National Democrats also smell '08 opportunity in two other New Jersey districts.
Last Friday they received a surprise gift when Jim Saxton, a 64-year-old Republican who has represented the Cherry Hill area since 1984, suddenly announced his retirement. He cited health reasons—a previously undisclosed battle with prostate cancer—but even before his announcement, he had drawn an ambitious and well-funded Democratic opponent, state Senator John Adler.
Mr. Saxton's Republican replacement is unknown, though the strongest candidate would probably be Diane Allen, a state Senator better known from her days as a Philadelphia television anchorwoman.
But Mr. Adler will be tough to beat, even if the district slightly favors the G.O.P. on paper. He is a prolific fund-raiser with close personal ties to George Norcross, a powerful insurance executive who in the last decade has seized control of virtually the entire Democratic apparatus south of Interstate-195. With Mr. Adler's demonstrated ability to raise and spend funds—his upset election to the state Senate in 1991 marked the first time a New Jersey state legislative candidate aired ads on network television—this could emerge as one of the costliest races in the country.
The third Republican seat Democrats are eyeing is that of Frank LoBiondo, who represents a southern patch of the state closer to Delaware than to Trenton. Sign's for Mr. LoBiondo are bad: In a local election last week, Jeff Van Drew, a Democratic assemblyman and tireless campaigner, convincingly unseated a Republican state senator in what amounted to a trial run for a Congressional bid.
Six years ago, the Democratic and Republican chiefs of New Jersey conspired to keep from breaking a sweat over political races, crafting a bipartisan redistricting scheme intended to lock the Democrats' 7-to-6 seat advantage in place for a decade. But now 3 of the state's 13 seats are in play, and the bosses are starting to worry: Will there be any money left for the freeholder races?