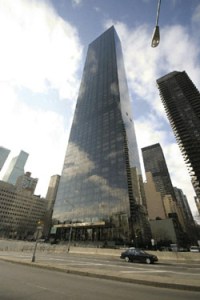 The most extravagantly-faced human being in New York City has added to her extravagant Trump World Tower portfolio. Jocelyne Wildenstein, called "the Cat Woman" by tabloids after serial plastic surgery gave her an uncanny feline mug, has paid $3.5 million for her third apartment at 845 United Nations Plaza, the dark Trump monolith that was once the tallest residential tower in the world.
Her sellers, city records show, are Igal and Niza Kohavi.
This two-bedroom, 2,009-square-foot condo comes six years after her first two, listed for $1.696 million and $1.35 million. She combined those apartments into a "sophisticated and special" seven-room, 3,000-square-foot spread, according to a listing. There were even ostrich-covered dining room chairs.
But by the end of 2001 she had already put her combined-unit spread on the market, asking $3.9 million or $25,000 per month. Somehow the price eventually went up to $10 million, but eventually the condo came off the market, according to a major brokerage's listings database.
It isn't clear if Ms. Wildenstein can combine her new Trump place with the other two units, though her old broker, Robert Haberman, told The Observer in 2003 that she'd gotten "special permission to break through."
He said the first two Trump apartments were bought as a place to stay while Ms. Wildenstein renovated her townhouse at 12 East 82nd Street: Records show she filed applications with the city for the "installation of hydrotherapy pool at first floor." But she sold that house last year for $14 million.
Then there's the foreign property. In 1998, during divorce proceedings in which art heir Alec Wildenstein complained that his wife's "continuing plastic surgery and hair transplants and tattooing" had brought public ridicule, a judge gave her use of the couple's 150-year-old French chateau and 66,000-acre Kenyan game ranch.
"I had a couple of tamed leopards; even in New York I had a black leopard and I had a calico lynx also," she told The New York Times later. "It's a beautiful face, beautiful natural makeup. We all seem to have the same eyes of these cats. Anyway me."