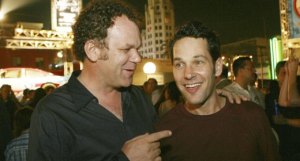 Good guy John C. Reilly (Boogie Nights, The Hours) may be getting thirsty for blood. He is in negotiations, along with Bridge of Terabithia kid Josh Hutcherson and Chris Kelly, to sign on to Cirque du Freak, an adaptation of Darren Shan's children's book series. Paul Weitz (About A Boy) is directing, according to the Hollywood Reporter.
The story follows two best friends (Hutcherson, Kelly) who visit an illegal freak show, where an encounter with a vampire and a giant deadly spider forces them to make life-changing choices that result in vampire servitude and vampirism itself.
Reilly would play Larten Crepsley, the centuries-old vampire and owner of Madame Octa, the spider.
Reilly has lately been in a comedy phase, appearing in such movies as Talladega Nights: The Ballad of Ricky Bobby, Year of the Dog and Judd Apatow's upcoming Walk Hard: The Dewey Cox Story.