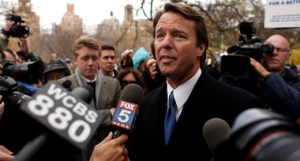 Today, presidential candidate John Edwards spoke in Washington Square Park at a rally in support of striking television writers. A few weeks earlier, Mr. Edwards had popped in on the strike lines in Los Angeles.
"We're in this together," Mr. Edwards said, according to Variety.
"Stay strong, stay together," Mr. Edwards added according to the Associated Press. "It's about making sure these big corporations, these big media conglomerates don't step on your rights — that you have a real opportunity to share in the work that you've been producing."
Brian Stelter of the New York Times reported that the crowd of several hundred people was smaller than the organizers had anticipated. That said, the crowd did include such luminaries as David Chase, the creator of "The Sopranos" and comedian Gilbert Gottfried.
How did Mr. Edwards' populist rhetoric go over?
"The problem for Edwards is that when the 'working people' are stars of stage and screen–or snarky New York scribes–it's hard to make much of an impact," writes Andrew Romano on Newsweek.com. "I stood with two comedy writers, one from the Colbert Report and one from SNL. They weren't impressed. To put it mildly."
Afterwards, Mr. Edwards spoke with reporters.
"He used his post-rally avail to roll out his plan to more heavily regulate the credit card industry," reports Politico's Ben Smith. "One thing he didn't do — as he hasn't lately — was go out of his way to criticize Hillary Clinton. He hasn't backed off his earlier shots at her, but he seems content at the moment to let Clinton and Obama go at it."
Although, neither Senator Clinton nor Senator Obama were in attendance, both reportedly submitted letters in support of the guild's cause.