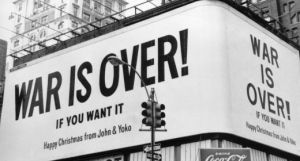 iTunes and Starbucks are teaming up to release the John Lennon video collection digitally, according to NME. The John Lennon Video Album is due out December 4, and features 21 videos including "Imagine," "Working Class Hero," and "Give Peace a Chance." Get a preview of the videos on Mr. Lennon's official site.
You'll have to buy a iTunes Digital Release Card with your next Pumpkin Spiced Latte at Starbucks, to download the album.
Full tracklisting of videos after the jump.
'Imagine'
'Woman'
'Watching The Wheels'
'Mind Games'
'Happy Xmas (War Is Over)'
'Whatever Gets You Thru The Night'
'(Just Like) Starting Over'
'#9 Dream'
'Give Peace A Chance'
'Beautiful Boy'
'Jealous Guy'
'Nobody Told Me'
'Cold Turkey'
'Power To The People'
'Working Class Hero'
'Love'
'Mother'
'Borrowed Time'
'Slippin' And Slidin'
'Stand By Me'